Increase transfection efficiency and cell viability with Xfect Transfection Reagent
High transfection efficiency
Very low cytotoxicity
Broad range of cells tested
Simple, serum-compatible protocol
Get higher transfection efficiency
Xfect is a biodegradable transfection polymer, screened from a pool of 2,300 candidates for its very high transfection efficiency and low cytotoxicity profile. Xfect provides excellent transfection for most cell types:
HeLa cells typically transfect with 85–90% efficiency
293-based cells typically transfect with 95–99% efficiency
More of your transfected cells are viable!
An obvious way to increase transfection efficiency is to increase the amount of DNA/transfection reagent mixture that you add to your cells. Unfortunately, since most transfection reagents damage cells during transfection, transfecting more DNA to increase efficiency is not an option. Xfect, however, creates non-toxic biodegradable nanoparticles with DNA so you can add more of the transfection mixture to your cells to get more transfected cells that are also viable.
Don't just take our word for it: customer success stories
Our lab transfects a variety of cell lines and was having problems transfecting plasmid DNA into several difficult to transfect cell lines, such as MRC-5 cells. With Clontech's Xfect Transfection reagent we have seen significantly better results in our MRC-5 transfections. As a bonus, our routine transfections in HEK293, BHK-21, and other cell lines have also significantly improved. We recommend Xfect to anyone searching for a more reliable transfection reagent that also is free from concerns about using special media and concerns about plastics used for setting about up transfection complexes. Clontech is a lifesaver!"

—Steve Scahill, UNIVERSITY OF WISCONSIN
I have been doing research with primary rat cardiomyocytes for more than seven years, and plasmid transfection (of these cells) is not easy. I previously believed that the best method was using Lipofectamine 2000 with Plus Reagent and an overnight incubation with Opti-MEM.Xfect was better than this Lipofectamine method... I was surprised (shocked!) We will switch to Xfect. High efficiency, no toxicity(!), easy procedure, and low cost.Thank you for providing such a nice product. I want to tell this to everyone engaging in myocyte biology.″

—Norimichi Koitabashi, JOHNS HOPKINS MEDICAL INSTITUTIONS




Simple, serum-compatible protocol
For ease of use and happier cells, plasmid transfections can be carried out entirely in the presence of serum. The Xfect transfection protocol requires few steps and minimal optimization—and there's no need to mess around with ratios! The Xfect reagent kit includes everything you need—no Opti-MEM is required.




Expand the Details tab in the product table on the Xfect Transfection Reagent product page product page to access the User Manual and other relevant content for a specific catalog item.
---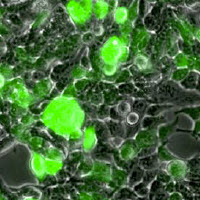 Tips for a successful transfection
This guide will help you select the right reagent and find useful tips for designing a successful transfection experiment. Tips include: how to plate your cells at the right density, how to make sure you are using plasmid DNA of sufficiently high quality, and how to assess transfection efficiency.
Transfection tips
Plasmid transfection reagents
Takara Bio USA, Inc.
United States/Canada: +1.800.662.2566 • Asia Pacific: +1.650.919.7300 • Europe: +33.(0)1.3904.6880 • Japan: +81.(0)77.565.6999
FOR RESEARCH USE ONLY. NOT FOR USE IN DIAGNOSTIC PROCEDURES. © 2023 Takara Bio Inc. All Rights Reserved. All trademarks are the property of Takara Bio Inc. or its affiliate(s) in the U.S. and/or other countries or their respective owners. Certain trademarks may not be registered in all jurisdictions. Additional product, intellectual property, and restricted use information is available at takarabio.com.