Viral gene delivery systems
Viral gene delivery allows the introduction and expression of a gene of interest in almost any mammalian cell type. However, selecting the best viral gene delivery system for your experimental aim can be challenging. Use the tables below to compare the characteristics of lentivirus, retrovirus, adenovirus, and adeno-associated virus (AAV), and select the best viral transduction system for your experiment. Once you have selected the best system, click here to learn more about each system.
General characteristics
Retrovirus
Lentivirus
Adenovirus
AAV

Broad host range
(infects many cell types)
Yes
(dividing cells only)
Yes
Yes
Yes
Infects both dividing and
non-dividing cells
No
(dividing cells only)
Yes
Yes
Yes
Genome integration
Yes
Yes
(integrase-deficient versions available)
No
No1
Very high level of protein expression2
No
No
Yes
(10–20% of total protein in HEK 293 cells)
No
Size of wild-type genome
8.3 kb
9.7 kb
37.7 kb
4.7 kb
Insert size capacity3
2.5–5.0 kb
2.5–5.0 kb
3.0–8.0 kb
2.5 kb
Typical titer
106 IFU/ml
107-108 IFU/ml
(with Lenti-X)4
109 IFU/ml
>1010 genome copies per ml
Able to obtain high
multiplicity of infection
(>25 copies per cell)
No
(up to 10 copies integrated)
No
(up to 10 copies integrated)
Yes
Yes
Recommended biosafety level5
BSL-2
BSL-2
BSL-2
BSL-1
Learn more>>
Learn more>>
Learn more>>
Learn more>>
1 Although recombinant AAV vector genomes persist within cells as episomes, random integration has been observed. (Deyle D. R. and Russell, D. W. Adeno-associated virus vector integration. Curr. Opin. Mol. Ther. 11, 442–447 [2009].)
2 Lentivirus can result in strong expression at high MOIs, but adenovirus typically results in the highest expression due to very high copy number.
3 The insert size capacity varies with the exact vector chosen; intrinsic sequences encoding fluorescent proteins, resistance gene markers, etc. will restrict the space available for cloning additional sequences.
4 The Lenti-X system is designed to produce high titers; these titers may not be obtained when using systems from other vendors.
5 In many cases, depending on the gene insert, AAV2 produced in the absence of a helper virus can be handled in a BSL-1 facility. Always follow all applicable guidelines for research involving recombinant DNA.
Cell-type specificity
Retrovirus
Lentivirus
Adenovirus
AAV
Cell line (dividing)

✓

✓
✓
✓
Primary cells (nondividing)
✓
✓
✓
Primary cells (dividing)
✓
✓
✓
✓
Neuronal cells
✓
✓
✓
Stem cells
✓
✓
✓
✓
Hematopoietic cells
✓
(use RetroNectin reagent)
✓
(use RetroNectin reagent)
---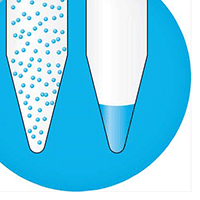 Lenti-X Concentrator video
Lenti-X Concentrator is a simple and fast method for concentrating any lentiviral stock—just mix your lentiviral supernatant with the concentration reagent, incubate, and spin the mixture in a standard centrifuge. Watch the video to see how it works.
Watch Concentrator video
Lentiviral packaging overview
Takara Bio USA, Inc.
United States/Canada: +1.800.662.2566 • Asia Pacific: +1.650.919.7300 • Europe: +33.(0)1.3904.6880 • Japan: +81.(0)77.565.6999
FOR RESEARCH USE ONLY. NOT FOR USE IN DIAGNOSTIC PROCEDURES. © 2023 Takara Bio Inc. All Rights Reserved. All trademarks are the property of Takara Bio Inc. or its affiliate(s) in the U.S. and/or other countries or their respective owners. Certain trademarks may not be registered in all jurisdictions. Additional product, intellectual property, and restricted use information is available at takarabio.com.