Lentivirus vector selection guide
We offer a variety of highly optimized lentiviral vectors for many applications. These lentiviral vectors are key players in all of our Lenti-X gene delivery systems, which can be used with almost any mammalian cell type, including dividing and nondividing cells, primary cell cultures, stem cells, and neurons. All of our pLVX lentiviral vectors contain HIV-1 LTRs and the lentiviral packaging signal (Ψ), and we've included specific elements to improve transgene expression, virus titer, and overall lentiviral vector function:
WPRE: A woodchuck hepatitis virus posttranscriptional regulatory element prevents poly(A) site readthrough, promotes RNA processing and maturation, and increases nuclear export of RNA. In genomic transcripts, it enhances vector packaging and increases titer. In transduced target cells, the WPRE boosts transgene expression by facilitating mRNA transcript maturation.
cPPT/CTS: A central polypurine tract/central termination sequence creates a "DNA flap" that increases nuclear importation of the viral genome during target-cell infection. The cPPT/CTS element improves vector integration and transduction efficiency.
RRE: A Rev response element increases titers by promoting the nuclear export of unspliced viral genomic RNA.

Click here to learn more about lentiviral vector safety.

Use these lentiviral vectors with any of our highly advanced, safe, and easy-to-use 4th-generation Lenti-X packaging systems, which produce high titers of VSV-G- or ecotropic-pseudotyped lentivirus.
Click the boxes below to view the vector information and map.
Lentiviral vector systems for control of protein stability
Clone your gene downstream of a ProteoTuner destabilization domain (DD) and control the stability of your protein with Shield1.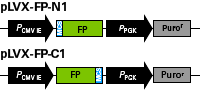 Lentiviral vectors for fluorescent protein expression
Clone your gene in-frame with one of our many fluorescent proteins and monitor the expression and subcellular localization of your protein.

Promoter studies with lentiviral vectors and fluorescent proteins
Monitor activity of your favorite promoter using a reporter system that expresses a cyan, green, or red fluorescent protein on demand.
Takara Bio USA, Inc.
United States/Canada: +1.800.662.2566 • Asia Pacific: +1.650.919.7300 • Europe: +33.(0)1.3904.6880 • Japan: +81.(0)77.565.6999
FOR RESEARCH USE ONLY. NOT FOR USE IN DIAGNOSTIC PROCEDURES. © 2023 Takara Bio Inc. All Rights Reserved. All trademarks are the property of Takara Bio Inc. or its affiliate(s) in the U.S. and/or other countries or their respective owners. Certain trademarks may not be registered in all jurisdictions. Additional product, intellectual property, and restricted use information is available at takarabio.com.