TALON metal affinity resin FAQs
Find out more about our highly specific cobalt-based TALON IMAC resin for purifying his-tagged proteins. Click on the expandable tabs below to view the answers to the questions that we are most frequently asked.
Principles of TALON purification
What is TALON resin?
TALON resin is an immobilized metal affinity chromatography (IMAC) resin charged with cobalt, which binds to his-tagged proteins with higher specificity than nickel-charged resins, providing exceptional purity.
What types of his-tagged proteins does TALON resin bind to?
TALON resin binds specifically to 6xhis-, 6xHN-, and histidine affinity tag (HAT)-tagged fusion proteins. The tag can be fused to the protein at the N- or C-terminal end of the protein. Wild-type proteins (such as histidine-rich proteins) can also be purified using TALON.
How does TALON provide better purity than Ni-NTA resins?
Each TALON reactive core is complexed with a cobalt ion that has a much higher selectivity for histidine tags than nickel ions. Only proteins containing adjacent histidines or specially positioned histidines are able to bind to TALON. In contrast, the spatial requirement for nickel-based resins is less strict, so using Ni-NTA resins often results in copurification of contaminants (Figure 1).
How do the purification conditions used with TALON resin maximize biological activity more effectively than nickel-based resins?
Since his-tagged proteins bind more specifically to TALON resin than to nickel-based resins, one can use less stringent conditions for washing and elution, obtaining highly pure, natively folded protein with elution conditions that are closer to physiological. Also, since the metal chelator is tetradentate, there is very little leaching of the metal into the eluate.
Purifying different types of his-tagged proteins with TALON Resin
Does increasing the number of histidine residues beyond the usual six affect the ability of a protein to bind to TALON resin?
Based on Takara Bio's research with TALON resin, increasing the number of histidine residues beyond the usual six does not increase the extent of binding or yield of the tagged protein. We have also found that the use of multiple types of tags does not improve purification results.
How can the yield of purified HAT- or 6xHis-tagged fusion protein be increased?
There are different factors that can affect and increase the yield of purified protein:
Temperature
Always use cold (4–8°C) solutions during extraction, and centrifuge at cool temperatures as well. Performing extractions and purifications at 4°C may reduce protein degradation.
Use of protease inhibitors
If proteolysis is suspected to be occurring during the extraction process, consider using extraction buffers containing Takara Bio's ProteoGuard EDTA-Free Protease Inhibitor Cocktail (Cat. # 635672). EDTA should not be used as a metalloprotease inhibitor, due to its capacity to chelate metals. If EDTA is used, it must be removed from the sample by gel filtration (PD-10 column, GE Healthcare, Cat. # 17-0851-01) or dialysis, just prior to starting TALON purification.
Loading/equilibration buffer pH
If yields are still low, the pH of the loading/equilibration buffer can be raised to 8, which increases protein binding to TALON resin.
Batch purification
Increasing the binding time of the his-tagged protein by employing a batch method of purification can also maximize yield. It is possible to allow the lysate sample to mix with the resin on a rocker or shaker with gentle agitation as long as overnight at 4°C to ensure that all his-tagged proteins are bound to the resin.
His-tag inaccessibility
If optimizing any of the above factors does not increase yield, try to determine whether or not the protein is passing through the resin without binding by performing a Western blot analysis of the cell extract using a 6xhis monoclonal antibody.
The Western blot should contain samples of the cell extract prior to column loading, the column flowthrough, the wash fractions, and the eluate. Unbound protein will be present in the flowthrough if it does not bind to the column. Problems with protein binding can indicate improper protein folding which results in the inaccessibility of the his-tag.
To test for his-tag inaccessibility, add denaturing reagents such as guanidine-HCl or urea to a few ml of the supernatant and then add this denatured supernatant to a 50 µl aliquot of the resin. Load the column with this material. Successful protein binding followed by elution of his-tagged protein confirms the inaccessibility of the tag—and suggests that the target protein yield will be improved if this protein is purified under denaturing conditions.
Expression of multiple polyhistidine-containing proteins
Another challenge in purifying proteins from eukaryotic cells is that such cells tend to express a number of polyhistidine-containing proteins. Therefore, we suggest a washing step with 10–20 mM imidazole prior to elution in order to increase the purity of the eluted protein.
Protein size and charge
It is important to remember that the ability of a protein to bind the resin also depends on its size and overall charge.
What should be done if a his-tagged protein is secreted from the cell into the cell culture medium?
Centrifuge the medium at 4°C, 10,000g for 30 min and check the supernatant for the presence of chelating substances that could prevent protein binding to the resin, as follows: apply a small quantity of the supernatant (e.g., 10 ml), adjusted to a pH of >7, to 1 ml of resin packed in a column.
If the resin does not lose Co2+, i.e., it remains pink, it is safe to continue the purification with the rest of the sample using one of the purification protocols from the TALON Metal Affinity Resins User Manual.
If the cobalt ion is removed by chelating substances in the supernatant, then performing a buffer exchange via gel filtration, ultrafiltration, or diafiltration is recommended (the preferred technique depends upon the sample volume). HisTALON Equilibration Buffer, a PBS-based buffer (available in the HisTALON Buffer Set, Cat. # 635651), can be exchanged for the medium if it is compatible with the protein of interest.
Once the protein is in a buffer compatible with TALON resin, it should be purified using the protocol in the user manual associated with your TALON product. Recombinant protein expression in eukaryotic cells can vary widely depending on the expressed protein. If the his-tagged protein has a good expression level, then a helpful rule of thumb is to start with a 10:1 ratio of medium to resin (e.g., for 100 ml of medium you may start with 10 ml of resin). This should bind all of the secreted, his-tagged protein.
What should be done if the protein contains a tag in the middle of the sequence, i.e., not a terminal tag?
There is no reason that a 6xhis tag in the center of a protein would not work, as long as it is exposed after protein folding. In fact, some customers have successfully isolated proteins with a tag in this location. Even if the folding of the native protein masks the tag, it is possible that purification under denaturing conditions would work.
Properties of TALON resin and columns
What is the binding capacity of TALON resin?
The binding capacity of TALON resin is 5–15 mg protein/ml of resin. This can vary, depending on the type and size of the his-tagged protein.
Is the performance of TALON resin affected by the temperature?
If the protein requires colder temperatures to prevent degradation, the purification steps can be performed at 4°C. This is a matter of preference, as the resin will work at either room temperature or 4°C. However, the resin should never be allowed to freeze because the agarose beads can break, leaking metal ions and decreasing binding capacity.
What is metal ion transfer?
Intermediate metal ions (such as Cu2+, Ni2+, and Co2+) will bind to thiol groups. Dithiothreitol (DTT) can extract the metal ion from the resin, which is referred to as metal ion transfer. This also happens at high beta-mercaptoethanol (BME) concentrations. When this occurs, the resin will turn brown and may elute a brown precipitate in the flowthrough or washes. However, Takara Bio's studies have shown that at low concentrations of DTT (<1 mM) or BME (<10 mM), the his-tagged protein in the elution fractions is not affected by the metal ion transfer even though the resin may be slightly discolored.
What is the chelator present in TALON resin?
The tetradentate chelator present in the core of TALON resin is a patented carboxymethyl aspartate.
If the HisTALON Gravity Column provides 1 ml of space for the resin slurry, how much extra room is there for the sample?
HisTALON Gravity Columns contain 1 ml of resin and have enough remaining space to hold another 6 ml of buffer without the cap, or 5 ml of buffer or sample with the cap on the column. The gravity columns are also available empty, without resin, as the TALON 2 ml Disposable Gravity Column (Cat. # 635606).
Why does the column turn violet upon addition of the sample/buffer containing guanidine-HCl?
Violet color in the guanidine-HCl buffer is normal. It is caused by a weak coordination of the guanidine to the metal, causing a change in the spin energy of the d-orbital electrons that give cobalt its pink color, which slightly alters the hue of the metal ion's color. This does not affect the binding capacity or the affinity characteristics of the column material. Imidazole binding to the metal will have a similar effect.
Can TALON columns/resin be regenerated?
Yes, TALON columns can be regenerated by washing with a MES/NaCl buffer to remove the imidazole. However, it cannot be guaranteed that the binding capacity after regeneration will be the same as that of the original unused resin. Takara Bio recommends that a regenerated column only be used to purify the same protein that it was previously used to purify, to prevent any contamination. Follow the instructions for regenerating TALON resin in the TALON Metal Affinity Resins User Manual.
When can the resin no longer be used?
The resin can no longer be used if it turns opaque/milky white, if it turns brown, if it loses its pink color, or if the binding capacity drops too low. These changes are usually due to using incompatible reagents on the column or regenerating the resin too many times. This can also happen if the entire protein precipitates onto the column. The researcher may want to remove the precipitated material by adding buffer with a denaturant, but we do not have specific protocols for this. The best recommendation is to use fresh resin.
Buffers and reagents to use with TALON resin
Which reagents are compatible with TALON resin?
TALON resin is compatible with many standard laboratory reagents. However, four reagents NOT compatible with TALON include DTT (dithiothreitol), EDTA (ethylene diamine tetraacetic acid), EGTA (ethylene glycol-bis(beta-amino-ethyl ether)), and PEI (polyethyleneimine). DTT creates thiol-reducing complexes which make the resin unstable. Recent Takara Bio studies have shown that 1 mM DTT can be used with caution. EDTA, EGTA, and PEI are chelating agents that strip the metal ligand from the column.
Reagents compatible with TALON Resin
| | |
| --- | --- |
| Reagent | Acceptable concentration |
| Beta-mercaptoethanola | 10 mM (with caution) |
| CHAPSb | 1% (with caution) |
| Ethanolc | 30% |
| Ethylene glycol | 30% |
| HEPES | 50 mM |
| Glycerol | 20% |
| Guanidine hydrochloridea | 6 mM |
| Imidazoled | 200 mM at pH 7.0–8.0, for elution |
| KCl | 500 mM |
| MES | 20 mM |
| MOPS | 50 mM |
| NaCl | 1.0 M |
| NP-40 | 1% |
| SDSb | 1% with caution |
| Trise | 50 mM |
| Triton-X 100 | <1% |
| Urea | 8 M |

a Use resin immediately after equilibrating with buffers containing these reagents. Otherwise, the resin will change color. Do not store resin in buffers containing these reagents.
b Ionic detergents like CHAPS (3-[(3-Cholamidopropyl)-dimethylammonio]-1-propane-sulfonate), SDS (sodium dodecyl sulfate), and sarkosyl are compatible up to 1%. However, due to their charged nature, you should anticipate interference with binding, even at low concentrations.
c Ethanol may precipitate proteins, causing low yields and column clogging.
d Imidazole cannot be used at concentrations higher than 5–10 mM for loading his-tagged proteins, because it competes with the histidine side chains (imidazole groups) for binding to the immobilized metal ions.
e Tris coordinates weakly with metal ions, causing a decrease in capacity.

Reagents incompatible with TALON Resin
These reagents are incompatible at any concentration:
DTT (dithiothreitol) and DTE (dithioerythritol)
NOTE: Using strong reducing agents will interfere with cobalt metal ion binding to the resin.
EDTA (ethylenediaminetetraacetic acid), EGTA (ethylene glycol tetraacetic acid), and PEI
NOTE: Although you can use EDTA at indicated points, it must be removed from the sample by gel filtration prior to applying the sample to TALON Resins.
Can nonphosphate-based buffer systems such as Tris or acetate buffers be used with TALON resin?
No, Tris or acetate buffers are not recommended for use with TALON resin. The correct pH cannot be obtained with sodium acetate, so it will interfere with binding. However it can be used for a pH-based elution buffer. Beyond this, an acetate buffer system is more conducive to microbial growth and is therefore less desirable. Using Tris buffers above 50 mM is not advised because Tris contains primary amines that may also interfere with his-tag affinity. Therefore, sodium phosphate is recommended. Furthermore, thiocyanate is not compatible with TALON resin. MOPS buffers perform slightly better than Tris buffers since the amine is not a primary amine, and HEPES buffer systems are known to work as well. Again, consult the TALON Metal Affinity Resins User Manual for a complete listing of compatible reagents.
What is the maximum imidazole concentration that can be used with IMAC resins such as TALON resin?
The maximum recommended imidazole concentration is 250 mM. Concentrations higher than 250 mM can lead to leaching of cobalt ions from the resin.
What is the maximum PMSF concentration that can be used with TALON resin?
PMSF is used in Takara Bio's ProteoGuard Protease Inhibitor Cocktail at a concentration of 1 mM in the 1X dilution. We do not recommend concentrations higher than 1 mM.
Can I elute my his-tagged protein from TALON resin with a histidine gradient?
Histidine is not recommended for protein elution from TALON resin because it will bind strongly to cobalt ions and cause metal ion transfer, resulting in stripping of the column. We recommend imidazole because it lacks the additional primary amine of histidine, so it binds less strongly to the metal ions and does not cause stripping of the column.
Should a pH- or imidazole-based elution be used?
This is the researchers' choice. We recommend using imidazole since it minimizes nonspecific binding, but imidazole impurities and his-tagged proteins both absorb at 280 nm, so elution peaks can be difficult to distinguish. However, Takara Bio's buffers are made with low-absorbance imidazole, so the only molecule absorbing at 280 nm is the his-tagged protein. The choice may also depend on downstream applications. A pH-based elution will work well as long as the protein of interest is stable at the lower pH, usually around pH 5.0 when using a 50 mM sodium acetate/300 mM NaCl buffer to elute. For the best pH elution results, use a pH gradient.
Can arginine be present in buffers used with TALON resin?
Arginine may be used in buffers intended for use with the TALON resin only if the final concentration is lower than 1 mM. At higher concentrations (and if using an elevated pH for adsorption) it would likely interfere with the binding of the his-tagged protein. If using an arginine-containing buffer, the pH should be maintained at ~7.2 and the sample diluted if the final arginine concentration is found to be higher than 1 mM.
Using xTractor buffer for his-tagged protein extraction
What is xTractor Buffer?
xTractor Buffer is an exceptionally flexible and efficient lysis buffer for protein extraction from bacterial, yeast, mammalian, and baculovirus-infected cells. It provides a fast and efficient 10 min lysis using mild, nondenaturing conditions. xTractor Buffer has been optimized for extraction of his-tagged proteins, so it is compatible with all IMAC resins.
Is it necessary to add lysozyme if xTractor Buffer is used with mammalian cells?
xTractor Buffer can be used with mammalian cells at efficiencies comparable to those obtained for bacterial pellets. However, since mammalian cells are easier to extract for protein, lysozyme does not need to be added to the lysis buffer.
What are the components of xTractor Buffer?
The components of xTractor Buffer are proprietary. However, the buffer does not contain chelating agents or protease inhibitors and is fully compatible with TALON resins and spin columns for purification of his-tagged proteins.
What is the effect on protein yield if xTractor Buffer is used with a fresh bacterial pellet compared to a frozen cell pellet?
We have not seen a significant difference in yield when using the xTractor Buffer with freshly collected bacterial pellets and frozen pellets.
What proteins have been extracted with xTractor Buffer at Takara Bio, and from what types of cells?
We have tested xTractor Buffer on various E. coli host strains expressing the following proteins: 6x(HN)-LacZ (beta-galactosidase), 6x(His)-LacZ, 6x(HN)-GFPuv (Green Fluorescent Protein), 6x(His)-GFPuv, HAT-DHFR (DiHydro Folate Reductase), and 6x(HN)-Luciferase. Both beta-galactosidase and luciferase were functionally tested following purification and were found to retain their enzymatic activity after the extraction.
Troubleshooting TALON resin purification
What should I do if purified protein fails to elute from TALON resin?
Check to see if any of the following factors are responsible and try the recommended solutions listed below:
Is the protein being expressed?

Check the lysate using Western blotting, preferably with a 6xhis antibody. This also assures that the reading frame is the same for the protein and the tag.

How does the lysate preparation look?

Was the lysate preparation turbid? If not, the cells may not be lysed completely. Try adding more lysis buffer, perform freezing/thawing of the sample, and incubate with the lysis buffer for a longer period of time.



Additional recommendations for disruption of membranes: Sonication is quick, but can be tedious if there are multiple samples. Alternately, up to 1% nonionic detergent, e.g., Triton, NP-40, or Tween can be used (SDS, CHAPS, and sarkosyl may cause problems).

Is the protein binding to the resin?

Check the flowthrough and wash fractions via Western blotting to see if the protein is bound (and not eluting), or flowing through during the washing steps instead of the eluting steps (i.e., not binding in the first place). If the protein does not seem to be binding and is flowing through:

Determine whether pH- or imidazole-based buffers are being used for elution.
Check buffer compositions for incompatible reagents.
Check the imidazole concentration; concentrations above 20 mM can inhibit binding.
Check the buffer pH; pH values below 6.8 can inhibit binding.
Check for the presence of supplements in the cell culture medium.
Cysteine, tryptophan, histidine, or other charged amino acids can prevent his-tag binding.
Check the solubility of the protein:

Treat a small aliquot (1 ml) of lysate with 6 M guanidine.
Apply the protein to 50 µl of TALON resin.
Perform a mini-scale purification.

Try adding a nonionic detergent to improve solubility.
Shearing DNA or adding DNase I decreases viscosity and improves protein binding.
Is the protein eluting from the resin?


Check the flowthrough and wash fractions via Western blotting to see if the protein is bound (and not eluting), or flowing through during the wash steps instead of the elution steps (i.e., not binding in the first place).
Alternatively, boil a small quantity of the beads in gel loading buffer and analyze the supernatant on a gel after boiling to confirm that the protein is not eluting. These methods should make the protein come off the resin; however, the resin, and probably the protein, will not be reusable.
If the protein does seem to bind but does not elute:

Determine whether pH or imidazole-based buffers are being used for elution.
Check buffer compositions—imidazole concentrations may need to be increased to allow elution.
Check the buffer pH—it may need to be lowered slightly to allow elution.

If no protein band is seen after stripping the resin with EDTA, the protein may have bound nonspecifically to the resin. If the protein is actually bound to the Sepharose and not the metal, the only method for removing the protein is to boil it for 10 minutes with 1% SDS. Adding the detergent can facilitate removal of the protein. This problem has been known to occur with lectins.
Is the protein eluting with other contaminating proteins?

Determine whether pH or imidazole-based buffers are being used for elution.
Try increasing the stringency of the wash.
Check buffer compositions; the imidazole concentration may need to be increased to improve purity.
Check the buffer pH; it may need to be lowered to improve purity.
Try increasing the salt (counterion) concentration (NaCl or KCl) to 0.5 M.
Why does the column turn brown?
The column will only turn brown if there is a reducing agent such as DTT or beta-mercaptoethanol (BME) in the buffer(s). The reducing agent complexes with the cobalt ion to form a brown precipitate. Using up to 10 mM BME should not affect the performance of the resin significantly. If BME is not used, the resin has turned brown, and there is no protein binding, DTT or DTE may be present in the buffers.
Why does the eluted protein/wash solution look pink?
A pink color in the eluate may be due to the presence of EDTA or DTT (types of metal ion stripping reagents or chelators) in one of the buffers.
What should I do if a portion of the recombinant protein passes through a TALON CellThru column without binding to the column?
For example, as seen in Figure 2, a fraction of the his-tagged protein (6xHis-GFPuv) present in the cell extract fails to adsorb to a TALON CellThru column, and appears in the gel lane labeled "Nonadsorbed material".
Several explanations may account for this observation:
Some types of recombinant proteins may interact with the proteins embedded in the cell membrane. Also, in crude protein lysates, some cellular compartments may not be completely broken down. When an aliquot of crude lysate is run on an SDS-protein gel, all membranes are solubilized, and cellular compartments are broken down by SDS. That explains why all recombinant proteins present in the cells can be seen on an SDS-protein gel.
When a crude lysate is run over a TALON CellThru column, all membranes and unbroken cellular compartments pass through the column. If a recombinant protein strongly interacts with membrane proteins or if it is contained within unbroken compartments, it will not be adsorbed by TALON CellThru, and instead will appear in the wash fractions.
However, if a crude lysate is centrifuged to bring down all debris, and then this clarified lysate is loaded onto a standard TALON or Ni-NTA column, no protein will be observed in the wash fractions. This is good, but there will be very little recombinant protein retained on the column! Why? Because it was all pulled down during the centrifugation step, along with pieces of membrane and unbroken compartments.
Recommended solutions:
TALON CellThru will actually improve yields of proteins that may interact with membrane proteins or are compartmentalized. Try the following:
Run the lysate through the column several times.
Use denaturing conditions.
Use nonionic detergents for protein extraction.
---
---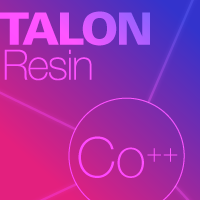 Choose the right TALON resin format.
Takara Bio USA, Inc.
United States/Canada: +1.800.662.2566 • Asia Pacific: +1.650.919.7300 • Europe: +33.(0)1.3904.6880 • Japan: +81.(0)77.565.6999
FOR RESEARCH USE ONLY. NOT FOR USE IN DIAGNOSTIC PROCEDURES. © 2023 Takara Bio Inc. All Rights Reserved. All trademarks are the property of Takara Bio Inc. or its affiliate(s) in the U.S. and/or other countries or their respective owners. Certain trademarks may not be registered in all jurisdictions. Additional product, intellectual property, and restricted use information is available at takarabio.com.