High-capacity his-tagged protein purification with His60 Ni resin
His60 Ni Superflow Resin is a high-capacity Ni-IDA resin for the one-step purification of recombinant his-tagged proteins from bacterial, mammalian, and baculovirus-infected cells. The modified Ni-IDA chemistry makes this resin one of the best on the market in terms of capacity, metal ion leakage, and purity, when compared to other Ni-based resins such as Ni-NTA or other Ni-IDA resins. His60 Ni resin is available in a variety of formats. Use the following table to decide which one is best for your specific application.
Choose the best His60 resin format for your application
His60 Ni Superflow Resin
His60 Ni Superflow Cartridges
His60 Ni Gravity Columns
His60 Ni Magnetic Beads
Format
Bulk package
FPLC cartridge
1-ml column
Magnetic beads
Binding capacity

60 mg protein/ml resin
60 mg protein/ml resin
60 mg protein/ml resin
33 mg protein/ml resin
Starting material
Clarified lysate
Clarified lysate
Clarified lysate
Clarified lysate
FPLC applications
Yes
Yes
No
No
Compatible with LC systems, including ÄKTA
Yes
Yes
No
No
Time savings
+
+++
+++
+++
Maximum pressure
N/A
N/A
Maximum flow rate (ml/min)
50

10 (1-ml cartridge)
40 (5-ml cartridge)

N/A
N/A
Bead size (µm)
60–160
60–160
60–160
20–75
Downstream applications

Preliminary protein characterization
Fast capture of his-tagged proteins

Protein labeling
Immunization to produce antibodies
Animal studies

Protein labeling
Immunization to produce antibodies
Animal studies

Microscale protein purification
Scaleable purification protocols
Simultaneously purify several proteins
Verify his-tagged protein expression in transformants
---
His60: high-capacity Ni-IDA resins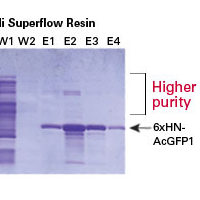 Discover how to improve protein purity from Ni resin purification
Takara Bio USA, Inc.
United States/Canada: +1.800.662.2566 • Asia Pacific: +1.650.919.7300 • Europe: +33.(0)1.3904.6880 • Japan: +81.(0)77.565.6999
FOR RESEARCH USE ONLY. NOT FOR USE IN DIAGNOSTIC PROCEDURES. © 2023 Takara Bio Inc. All Rights Reserved. All trademarks are the property of Takara Bio Inc. or its affiliate(s) in the U.S. and/or other countries or their respective owners. Certain trademarks may not be registered in all jurisdictions. Additional product, intellectual property, and restricted use information is available at takarabio.com.