Myc-tagged protein purification overview
Technologies
Takara Bio offers two different technologies for Myc-tagged protein purification:
Introduction
The Myc tag is a small, immunoreactive peptide tag (11 amino acids) that is ideal for co-immunoprecipitation studies and Western blots. It binds to the cMyc Monoclonal Antibody and can be incorporated on the N-terminus, the C-terminus, or internally. It is expressed in bacterial, yeast, mammalian, and baculovirus-infected insect cells.
Applications
The Myc tag may be used for the following applications:
When a small tag is required to minimize its effect on protein function
When a low metabolic load is needed to maintain normal cell physiology and/or to increase protein expression
To monitor recombinant protein expression in bacterial, yeast, mammalian, or insect cells
For co-immunoprecipitation studies, Western blots, and flow cytometry
To monitor subcellular localization of tagged proteins in mammalian cells
Purifying Myc-tagged proteins using immunoprecipitation
Immunoprecipitation (IP) is a technique for separating a protein of interest from a solution containing thousands of different proteins, such as a cell lysate, by precipitating it from the solution using an antibody that binds specifically to that protein. Proteins that contain peptide tags, such as the Myc tag, can be isolated and concentrated using an antibody specific for this tag, provided that the antibody is attached to a solid substrate. A tag-specific antibody can also be used to precipitate protein complexes, in a process known as co-immunoprecipitation (Co-IP). Takara Bio offers a choice of anti-Myc antibodies attached to two different substrates, agarose beads or magnetic beads, for your IP and Co-IP experiments.
The Magnetic Myc Immunoprecipitation Kit offers a simple, rapid method for purifying or immunoprecipitating Myc-tagged fusion proteins from cell lysates—using magnetic beads cross-linked to a monoclonal anti-Myc antibody (which recognizes the Myc epitope). The kit also includes the Magnetic Beads Immunoprecipitation Buffer Set (optimized to provide extremely low background) and the ProteoGuard protease inhibitor cocktail (specially designed to inhibit endogenous proteases released during cell lysis).
c-Myc Monoclonal Antibody-Agarose Beads may also be used to purify or immunoprecipitate c-Myc-tagged fusion proteins from cell lysates. This product consists of Monoclonal anti-c-Myc Antibody (Clone 9E10), which recognizes the c-Myc tag (410–419 of the human p62-c-Myc protein), supplied crosslinked to immobilized Protein A agarose beads. The amount of crosslinked antibody on the agarose beads is >0.5 mg/ml.
---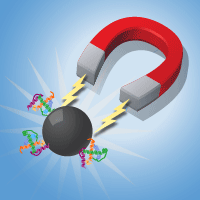 Magnetic beads enable one-step protein purification and pull-down assays.
Takara Bio USA, Inc.
United States/Canada: +1.800.662.2566 • Asia Pacific: +1.650.919.7300 • Europe: +33.(0)1.3904.6880 • Japan: +81.(0)77.565.6999
FOR RESEARCH USE ONLY. NOT FOR USE IN DIAGNOSTIC PROCEDURES. © 2023 Takara Bio Inc. All Rights Reserved. All trademarks are the property of Takara Bio Inc. or its affiliate(s) in the U.S. and/or other countries or their respective owners. Certain trademarks may not be registered in all jurisdictions. Additional product, intellectual property, and restricted use information is available at takarabio.com.