mRaspberry fluorescent protein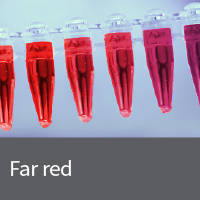 Far-red fluorescent proteins such as mRaspberry, mPlum, E2-Crimson, and HcRed1 avoid the natural green autofluorescence found in plants and animals and are ideal for in vivo imaging. mRaspberry is a fruit fluorescent protein which was developed in Dr. Roger Tsien's lab (Shaner et al. 2004; Wang et al. 2004; Shu et al. 2006) by directed mutagenesis of a monomeric mutant of DsRed (Campbell et al. 2002). mRaspberry shows stable expression and great performance in applications using fusion proteins.
Overview
Far-red fluorescent protein ideal for in vivo applications
mRaspberry fluorescent protein excitation and emission maxima: 598 and 625 nm, respectively
Detect mRaspberry on a Western blot using these antibodies
More Information
Applications
Fusions
Protein localization studies
In vivo imaging
References
Campbell, R. E. et al. A monomeric red fluorescent protein. Proc. Natl. Acad. Sci. U. S. A. 99, 7877–82 (2002).
Shaner, N. C. et al. Improved monomeric red, orange and yellow fluorescent proteins derived from Discosoma sp. red fluorescent protein. Nat. Biotechnol. 22, 1567–72 (2004).
Shu, X., Shaner, N. C., Yarbrough, C. A., Tsien, R. Y. & Remington, S. J. Novel chromophores and buried charges control color in mFruits. Biochemistry 45, 9639–9647 (2006).
Wang, L., Jackson, W. C., Steinbach, P. a & Tsien, R. Y. Evolution of new nonantibody proteins via iterative somatic hypermutation. Proc. Natl. Acad. Sci. U. S. A. 101, 16745–16749 (2004).
Additional product information
Please see the product's Certificate of Analysis for information about storage conditions, product components, and technical specifications. Please see the Kit Components List to determine kit components. Certificates of Analysis and Kit Components Lists are located under the Documents tab.
Takara Bio USA, Inc.
United States/Canada: +1.800.662.2566 • Asia Pacific: +1.650.919.7300 • Europe: +33.(0)1.3904.6880 • Japan: +81.(0)77.565.6999
FOR RESEARCH USE ONLY. NOT FOR USE IN DIAGNOSTIC PROCEDURES. © 2023 Takara Bio Inc. All Rights Reserved. All trademarks are the property of Takara Bio Inc. or its affiliate(s) in the U.S. and/or other countries or their respective owners. Certain trademarks may not be registered in all jurisdictions. Additional product, intellectual property, and restricted use information is available at takarabio.com.