AcGFP1 fluorescent protein
AcGFP1 (Aequorea coerulescens GFP) is a monomeric green fluorescent protein with spectral properties similar to those of EGFP. Although AcGFP1 and EGFP sequences have 94% homology at the amino acid level and equivalent brightness, AcGFP1 is a superior alternative for fusion applications because it is a monomer. In contrast, the Aequorea victoria GFP and EGFP form dimers (Jain et al. 2001, Chen et al. 2002). The monomeric nature of AcGFP1 has been confirmed by FPLC gel filtration chromatography, sucrose density gradient ultracentrifugation, and pseudonative gel electrophoresis. (Click the Image Data button in the product table below to view data.)
AcGFP1 (Aequorea coerulescens GFP) is a monomeric green fluorescent protein with spectral properties similar to those of EGFP. Although AcGFP1 and EGFP sequences have 94% homology at the amino acid level and equivalent brightness, AcGFP1 is a superior alternative for fusion applications because it is a monomer. In contrast, the Aequorea victoria GFP and EGFP form dimers (Jain et al. 2001, Chen et al. 2002). The monomeric nature of AcGFP1 has been confirmed by FPLC gel filtration chromatography, sucrose density gradient ultracentrifugation, and pseudonative gel electrophoresis. (Click the Image Data button in the product table below to view data.)
The AcGFP1 fluorescent protein is very stable, allowing you to perform studies over an extended period of time. AcGFP1 can be used to visualize and measure gene expression in a variety of organisms from bacteria to higher plants and animals.
Overview
Monomeric green fluorescent protein
Similar spectral properties to EGFP
AcGFP1 excitation and emission maxima: 475 and 505 nm, respectively
EGFP excitation and emission maxima: 484 and 510 nm, respectively
Lentiviral (pLVX-) and retroviral (pRetroQ-) formats are available
Antibodies are available for detection of AcGFP1
More Information
Applications
References
Jain, R. K. et al. Oligomerization of green fluorescent protein in the secretory pathway of endocrine cells. Biochem. J. 360, 645–649 (2001).
Chen, Y. et al. Molecular brightness characterization of EGFP in vivo by fluorescence fluctuation spectroscopy. Biophys. J. 82, 133–144 (2002).
Additional product information
Please see the product's Certificate of Analysis for information about storage conditions, product components, and technical specifications. Please see the Kit Components List to determine kit components. Certificates of Analysis and Kit Components Lists are located under the Documents tab.
---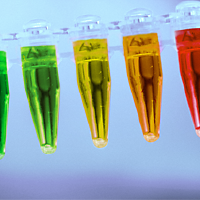 Clontech-brand fluorescent protein vectors: now only $149
Clontech (now Takara Bio USA, Inc.) was the first to bring GFP to market. We commercialized mCherry, DsRed, and tdTomato. We've generated vectors in every color of the rainbow, and now we're bringing you a spectrum of savings. From now through March 31st, you can get any of over 170 fluorescent protein vectors for only $149—just pick your application and choose your vectors.
Cite Discount Quote 35732 when ordering to receive the discount. Offer valid in the US and Canada only through 03.31.20. No other discounts apply.
Offer details
Vector information
---
Takara Bio USA, Inc.
United States/Canada: +1.800.662.2566 • Asia Pacific: +1.650.919.7300 • Europe: +33.(0)1.3904.6880 • Japan: +81.(0)77.565.6999
FOR RESEARCH USE ONLY. NOT FOR USE IN DIAGNOSTIC PROCEDURES. © 2020 Takara Bio Inc. All Rights Reserved. All trademarks are the property of Takara Bio Inc. or its affiliate(s) in the U.S. and/or other countries or their respective owners. Certain trademarks may not be registered in all jurisdictions. Additional product, intellectual property, and restricted use information is available at takarabio.com.