cDNA library construction kits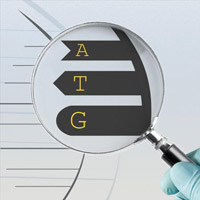 Our cDNA library construction kits utilize SMART technology to generate libraries enriched for full-length cDNA.
Our cDNA library construction kits utilize SMART technology to generate libraries enriched for full-length cDNA.
Create long-insert libraries
The SMART cDNA Library Construction Kit is designed for the cloning of full-length cDNA into a phage TriplEx2 vector. The kit combines SMART technology (Switching Mechanism At 5' end of RNA Template) for cDNA synthesis with adapter-free, directional cloning into the TriplEx2 vector. This kit contains two separate protocols, allowing you to choose a method based on your starting material. The first protocol employs long-distance PCR (LD PCR) for researchers limited by their starting material. As little as 50 ng of total RNA can be used as starting material. The second protocol provides a more straightforward method for researchers with abundant amounts of starting material (i.e., 1 µg or more of poly A+ RNA). Resulting libraries contain a higher percentage of full-length clones than libraries constructed by conventional methods or other full-length cDNA synthesis protocols. Thus, clones isolated from these libraries contain sequences corresponding to the complete 5' untranslated region of the mRNA.
Enrich for full-length cDNA
SMART cDNA synthesis technology ensures uninterrupted cDNA synthesis, creating cDNAs with well-represented 5'-end sequences. Since terminal transferase activity and the subsequent template-switching process occur preferentially at the 5' ends of eukaryotic mRNAs, truncated products resulting from premature termination of the reverse transcription reaction generally do not incorporate the SMART(er) oligonucleotide, and consequently are not amplified during PCR. Thus, cDNA pools created using our SMART technology and amplified by long-distance PCR are enriched for full-length cDNA. Additionally, because the 5' sequence and modified oligo(dT) primer are not added onto genomic DNA or cDNA transcribed from ribosomal RNA, cDNA that is generated using SMART is free of these contaminating agents.
Save time with a streamlined protocol
This library construction protocol can be completed in fewer steps than other library construction methods due to a highly efficient cDNA synthesis and cloning process. Only three enzymes are required to complete the entire protocol, as opposed to the usual 6–8 enzymes required for other methods. The protocol is user friendly and straightforward with no adapter ligation or tailing steps. Your precious RNA is subjected to the least possible handling, thereby minimizing the risk of degradation.
Insert your library into any vector
In-Fusion Cloning makes it easy to clone your cDNA library into the pSMART2IF or pSMART2IFD linearized vectors (included with the In-Fusion SMARTer Directional cDNA Library Construction Kit) in just one 30-min reaction. Most importantly, since In-Fusion Cloning is designed to join fragments of DNA with 15 complementary bp at their ends, In-Fusion kits can be used to precisely transfer your cDNA into ANY linearized vector. If you would like to clone your library into your own expression vector for functional analysis, simply amplify your vector by inverse PCR using primers that create linear vector ends that are complementary to the ends of the cDNA. Primers must have two characteristics: the 5' end of the primer must contain 15 bases that are complementary to 15 bases at one end of the DNA fragment to which the vector will be joined (i.e., the insert), and the 3' end of the primer must contain a sequence that is specific to the target vector.
Overview
SMART cDNA Library Construction Kit (Cat. # 634901)
Generate cDNA from as little as 50 ng of total RNA
Enrich for full-length cDNA
Every cDNA inserted into the MCS is expressed in three reading frames
Utilizes rare SfiI sites to ensure your cDNA is intact
No adapter ligation is required for cDNA synthesis or cloning
In-Fusion SMARTer Directional cDNA Library Construction Kit (Cat. # 634933)
Generate high-quality cDNA libraries from as little as 10 ng of total RNA
Enrich for full-length cDNA
No restriction enzyme digestion, no blunt-end polishing, and no adapter ligation required for cDNA synthesis and cloning steps
Insert your library into any expression vector
More Information
Applications
Large-insert cDNA library construction
Full-length cDNA amplification
Directional cDNA cloning, adapter-free
Sequencing
Additional product information
Please see the product's Certificate of Analysis for information about storage conditions, product components, and technical specifications. Please see the Kit Components List to determine kit components. Certificates of Analysis and Kit Components Lists are located under the Documents tab.
Takara Bio USA, Inc.
United States/Canada: +1.800.662.2566 • Asia Pacific: +1.650.919.7300 • Europe: +33.(0)1.3904.6880 • Japan: +81.(0)77.565.6999
FOR RESEARCH USE ONLY. NOT FOR USE IN DIAGNOSTIC PROCEDURES. © 2022 Takara Bio Inc. All Rights Reserved. All trademarks are the property of Takara Bio Inc. or its affiliate(s) in the U.S. and/or other countries or their respective owners. Certain trademarks may not be registered in all jurisdictions. Additional product, intellectual property, and restricted use information is available at takarabio.com.