mRNA Cap 2'-O-Methyltransferase
mRNA Cap 2'-O-Methyltransferase uses S-adenosylmethionine (SAM) as a methyl donor to add a methyl group at the 2'-O position of the first nucleotide at the 5' end of Cap-0 mRNA, resulting in Cap-1 structure. Cap-1 RNA structure may improve evasion of innate immune response and promote translation in vivo.
Use Vaccinia Capping Enzyme (Cat. # 2460) together with this enzyme to produce Cap-1 RNA directly from uncapped RNA (5'-triphosphate RNA) in a single post-transcriptional reaction.
Overview
A complete solution for the enzymatic capping approach of in vitro-transcribed mRNAs
Generates a Cap-1 structure from Cap-0 mRNA* or uncapped mRNA
Free from nuclease activities
Large package size available
*Capped RNA (Cap-0) can be prepared using Takara IVTpro Synthesis System (Cat. # 6141) followed by an enzymatic capping process using Vaccinia Capping Enzyme (Cat. # 2470).
More Information
Applications
Generation of Cap-1 structures of mRNAs
Source
Escherichia coli carrying a plasmid containing the gene for vaccinia virus mRNA cap 2'-O-methyltransferase
Additional product information
Please see the product's Certificate of Analysis for information about storage conditions, product components, and technical specifications. Please see the Kit Components List to determine kit components. Certificates of Analysis and Kit Components Lists are located under the Documents tab.
---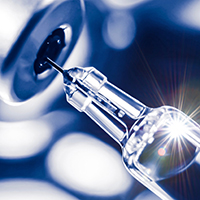 Speed up your vaccine development with innovative technologies
Vaccines have significantly decreased the burden of infectious diseases worldwide since the development of the first vaccine more than 200 years ago that led to the eradication of smallpox. In recent years, the spread of severe infections has highlighted the critical need for the rapid development of vaccines against previously unknown pathogens to deal with pandemics such as COVID-19.
Discover how Takara Bio can help speed up your vaccine-development process.
Learn more
Takara Bio USA, Inc.
United States/Canada: +1.800.662.2566 • Asia Pacific: +1.650.919.7300 • Europe: +33.(0)1.3904.6880 • Japan: +81.(0)77.565.6999
FOR RESEARCH USE ONLY. NOT FOR USE IN DIAGNOSTIC PROCEDURES. © 2023 Takara Bio Inc. All Rights Reserved. All trademarks are the property of Takara Bio Inc. or its affiliate(s) in the U.S. and/or other countries or their respective owners. Certain trademarks may not be registered in all jurisdictions. Additional product, intellectual property, and restricted use information is available at takarabio.com.