Genotyping using animal and blood samples
Genotyping is the technique of identifying individual genetic variations within a larger population. Among the most common types of genetic variations (occurring typically once every ~300 nucleotides) are single nucleotide polymorphisms (SNPs), wherein single-base differences occur at specific coding and noncoding regions of the genome. To truly be classified as a SNP, the mutation must occur in at least 1% of the population. Particularly when found in coding regions, SNPs can lead to altered phenotypes. In some instances, SNPs can be beneficial—such as when conferring higher HDL cholesterol levels, generally thought to be the "good" cholesterol. In other cases, SNPs can be detrimental, conferring susceptibility to disease, such as type-2 diabetes. Lastly, SNPs can also influence a variety of traits, ranging from curly vs. straight hair to responses to specific drug treatments. Ultimately, SNPs can be critical determinants of a variety of traits that are of critical importance to health, disease, agriculture, and research.
SNP genotyping can be performed using microarrays or full sequencing. However, these approaches tend to be broad, discovery-based techniques that can be costly and time-consuming. Most SNP genotyping experiments focus on a smaller subset of key SNPs and screen through large numbers of samples. One area where SNP genotyping has proved useful is in finding compatible blood for transfusions. The classic ABO blood groups, as well as Rhesus (Rh) factor, have typically been studied using an antibody-based method to detect antigens on the surface of red blood cells (RBCs). However, this technique can be limiting, because there are no antibody-based reagents for some clinically relevant antigens, including Kell, Kidd, MNS, Dombrock, Colton, and Yt. Furthermore, individuals who have previously received transfusions now have innate and donor RBCs that cannot be distinguished using classical antibody-based methods.
DNA-based methods have emerged as a way to overcome these limitations. Using probes specific to SNPs of interest, researchers can robustly and accurately identify a wide variety of blood types. In the case of blood containing a mix of donor and patient RBCs, the relatively lower levels of donor RBCs are out-competed by innate RBCs during the qPCR reaction. The ability to look at larger data sets enables the screening of more cells, and thus increases the number of rare donor cells included in analyses. With advancements in high-throughput qPCR techniques, it is now even easier to design and execute large-scale studies of a wide range of blood types in thousands of samples in a single day.
The SmartChip Real-Time PCR System has been utilized by researchers looking for rapid and sensitive genotyping of blood samples. The system is capable of processing up to 10,000 samples in a single day. Additionally, the flexibility in chip configurations enables the ability to add additional SNP targets as needed.
---
Another key area for genotyping is in tracking research animals, crops, and livestock. Animal and crop breeding has been utilized for hundreds to thousands of years. Recent molecular biology and genetics advances have rapidly advanced this field, by enabling the linkage of specific desirable traits to SNPs. Similarly, a number of model species are utilized in scientific research. These species have a wide range of diversity and mutations whose detection is essential for accurate colony management. Advancements in high-throughput qPCR have greatly streamlined and lowered costs for tracking genotypes across a variety of samples types. However, a key hurdle is the ever expanding number of SNPs and variations in sample types, e.g., crop or animal species.
The SmartChip Real-Time PCR System enables the interrogation of a wide range of sample and SNP combinations—all using the same blank, 5,184-well chip. The robust platform enables flexible, high-throughput genotyping with a high degree of accuracy and concordance. The SmartChip system has been utilized to genotype multiple species and is currently offered as a service for mouse colony tracking by the Rutgers Functional Genomics Core.
---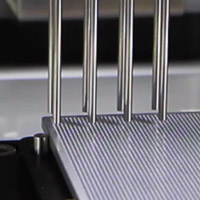 High-throughput real-time PCR
Where throughput meets flexibility
Real-time PCR (qPCR) is a powerful technique for genotyping and gene expression analysis. Currently, qPCR experiments are becoming increasingly complex—involving an expansive and growing list of targets from a larger number of samples, all with more technical replicates. The SmartChip Real-Time PCR System is a complete high-throughput solution that enables an unrivaled amount of flexible assay and sample formats, allowing researchers to seamlessly switch between dispensing assay reagents and samples into blank chips, or dispensing samples into custom, preprinted chips without the need for revalidation.
Learn more
Product details
Takara Bio USA, Inc.
United States/Canada: +1.800.662.2566 • Asia Pacific: +1.650.919.7300 • Europe: +33.(0)1.3904.6880 • Japan: +81.(0)77.565.6999
FOR RESEARCH USE ONLY. NOT FOR USE IN DIAGNOSTIC PROCEDURES. © 2022 Takara Bio Inc. All Rights Reserved. All trademarks are the property of Takara Bio Inc. or its affiliate(s) in the U.S. and/or other countries or their respective owners. Certain trademarks may not be registered in all jurisdictions. Additional product, intellectual property, and restricted use information is available at takarabio.com.