Pathogen detection in patients and food
The ability to monitor and detect viral, bacterial, and fungal pathogens in a variety of samples, including human and agricultural, is critical. An ideal workflow would be able to rapidly profile a high number of targets in multiple samples with precision and reproducibility. As such, research into utilizing high-throughput qPCR has emerged as a potential improved methodology for pathogen detection.
One area where the SmartChip Real-Time PCR System has been utilized is for quick and accurate identification of microorganisms causing imbalance in Bacterial Vaginosis (BV). BV is of critical importance for women's health research laboratories, as BV affects over 21 million women in the United States annually. While the specific causes of BV are unknown, identifying microorganisms in samples can lead to a deeper understanding of the disease. We developed a panel that has been utilized by BV researchers to aid in these efforts. The BV panel contains three controls and identifies 19 different pathogens utilizing high-throughput qPCR analysis (Table I).
BV panel targets
Atopobium vaginae
Mobiluncus curtisii
Bacteroides fragilis
Mobiluncus mulieris
Candida albicans
Mycoplasma genitalium
Candida glabrata
Mycoplasma hominis
Candida krusei
Neisseria gonorrhoeae
Candida parapsilosis
Prevotella bivia
Candida tropicalis
Trichomonas vaginalis
Chlamydia trachomatis
Ureaplasma urealyticum
Gardnerella vaginalis
Human albumin (control)
HSV1
RNaseP (control)
HSV2
Β-globulin (control)
Table I. The BV panel identifies 19 microorganisms covering bacterial, yeast, protozoan, fungal, and viral pathogens and includes three internal positive controls.
The power of using the BV panel on the SmartChip system is in the ability screen 144 samples across all 22 assays with just 30 minutes of hands-on time, in ~six hours of total run time. Utilizing the full SmartChip system's output, researchers can analyze up to 432 samples in a single day. Thus, the SmartChip system enables a simple, reproducible workflow that provides sensitive, specific, and accurate identification of microorganisms in a high-throughput platform that decreases the cost per sample.
---
Another research area that has utilized the SmartChip Real-Time PCR System's strengths is fungal detection in crops. A large majority of the crops grown as part of the food supply in North America (NA) are susceptible to various fungal diseases that can devastate production by lowering yield and grain quality. Fusarium head blight (FHB) is one such fungal disease that has been studied extensively with the SmartChip system. FHB can infect a wide variety of crops, including wheat, barley, corn, and oats. Despite being first identified in the late nineteenth century, FHB first started appearing in NA during the mid-twentieth century and has continued to slowly expand. FHB is typically spread via wind and planting of infected seeds following periods of heavy rainfall in affected areas. Thus, it is critical to accurately identify and monitor FHB in a large number of samples to determine where it is currently present and also prevent rapid expansion into other regions.
FHB is caused by four species of fungus: Fusarium graminearum, Fusarium culmorum, Fusarium avenaceum, and Fusarium crookwellense. In some cases, infection can be detected visually. However, visual inspection can be an inefficient and time-consuming method for monitoring FHB. Furthermore, FHB may not be visible until late stages of infectivity, a point at which it is too late to prevent the spread to other nearby crops. Thus, high-throughput qPCR is an amenable solution to rapid and sensitive detection of FHB in a large number of crop samples. The SmartChip system has specifically allowed the assaying of a wide range of fungal species in multiple samples to further increase throughput and speed up analysis for FHB research groups.
---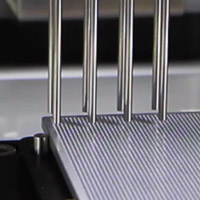 High-throughput real-time PCR
Where throughput meets flexibility
Real-time PCR (qPCR) is a powerful technique for genotyping and gene expression analysis. Currently, qPCR experiments are becoming increasingly complex—involving an expansive and growing list of targets from a larger number of samples, all with more technical replicates. The SmartChip Real-Time PCR System is a complete high-throughput solution that enables an unrivaled amount of flexible assay and sample formats, allowing researchers to seamlessly switch between dispensing assay reagents and samples into blank chips, or dispensing samples into custom, preprinted chips without the need for revalidation.
Learn more
Product details
Takara Bio USA, Inc.
United States/Canada: +1.800.662.2566 • Asia Pacific: +1.650.919.7300 • Europe: +33.(0)1.3904.6880 • Japan: +81.(0)77.565.6999
FOR RESEARCH USE ONLY. NOT FOR USE IN DIAGNOSTIC PROCEDURES. © 2023 Takara Bio Inc. All Rights Reserved. All trademarks are the property of Takara Bio Inc. or its affiliate(s) in the U.S. and/or other countries or their respective owners. Certain trademarks may not be registered in all jurisdictions. Additional product, intellectual property, and restricted use information is available at takarabio.com.