Cellartis DEF-CS 500 Culture System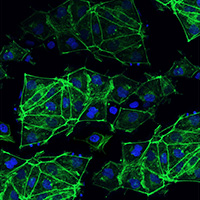 The Cellartis DEF-CS 500 Culture System is an easy-to-use, complete culture system for defined and feeder-free iPS-cell expansion in a non-colony, 2D-monolayer format.
The Cellartis DEF-CS 500 Culture System is an easy-to-use, complete culture system for defined and feeder-free iPS-cell expansion in a non-colony, 2D-monolayer format.
With this system, cells are maintained in an undifferentiated state with virtually no background differentiation, eliminating the need for cell selection. The highly reproducible nature of the system, coupled with its ability to ensure an efficient and predictable growth rate, makes the DEF-CS culture system ideal for the expansion and scale-up of a homogeneous population of iPS cells. Following reprogramming, successful expansion of your pluripotent stem cells is crucial. The DEF-CS culture system, a research-grade system, provides media, a coating reagent, and growth factors for the easy culture of iPS cells as a 2D monolayer.


Overview
Non-colony, 2D-monolayer format enables you to culture pluripotent stem cells just like any other cell type

Feeder-free and chemically defined

Cells maintain pluripotency and long-term potential for self-renewal and differentiation

Robust system provides high reproducibility, stable growth, and ensures maintenance of a normal karyotype

Complete kit includes 500 ml of basal medium, additives, and coating compound
More Information
Applications
Single-cell culture of human iPS cells

Transfection and reprogramming

High-throughput screening

Tissue engineering (seeding cells on a scaffold)

Gene editing
Product citations
Boreström, C. et al. Footprint-free human induced pluripotent stem cells from articular cartilage with redifferentiation capacity: A first step toward a clinical-grade cell source. Stem Cells Trans. Med. 3, 433–447 (2014).
Hanson, C. et al. Transplantation of human embryonic stem cells onto a partially wounded human cornea in vitro. Acta ophthalmologica 91, 127–130 (2013).
Kia, R. et al. MicroRNA-122: a novel hepatocyte-enriched in vitro marker of drug-induced cellular toxicity. Toxicol. Sci. 144, 173–85 (2015).
Norrman, K. et al. Distinct gene expression signatures in human embryonic stem cells differentiated towards definitive endoderm at single-cell level. Methods 59, 59–70 (2013).
Sivertsson, L. et al. Hepatic differentiation and maturation of human embryonic stem cells cultured in a perfused three-dimensional bioreactor. Stem Cells Dev. 22, 581–594 (2012).
Ulvestad, M. et al. Drug metabolizing enzyme and transporter protein profiles of hepatocytes derived from human embryonic and induced pluripotent stem cells. Biochem. Pharmacol. 86, 691–702 (2013).
Valton, J. et al. Efficient strategies for TALEN-mediated genome editing in mammalian cell lines. Methods 69, 151–170 (2014).
Zandén, C. et al. Stem cell responses to plasma surface modified electrospun polyurethane scaffolds. NANOMED-NBM 10, 949–958 (2014).
Additional product information
Please see the product′s Certificate of Analysis for information about storage conditions, product components, and technical specifications. Please see the Kit Components List to determine kit components. Certificates of Analysis and Kit Components Lists are located under the Documents tab.
Takara Bio USA, Inc.
United States/Canada: +1.800.662.2566 • Asia Pacific: +1.650.919.7300 • Europe: +33.(0)1.3904.6880 • Japan: +81.(0)77.565.6999
FOR RESEARCH USE ONLY. NOT FOR USE IN DIAGNOSTIC PROCEDURES. © 2022 Takara Bio Inc. All Rights Reserved. All trademarks are the property of Takara Bio Inc. or its affiliate(s) in the U.S. and/or other countries or their respective owners. Certain trademarks may not be registered in all jurisdictions. Additional product, intellectual property, and restricted use information is available at takarabio.com.