Cre recombinase
Cre-mediated recombination has been widely used to carry out deletions, insertions, translocations, and inversions of genes at specific sites in the genome. We offer products to facilitate AAV- or gesicle-based delivery of Cre recombinase for Cre-lox recombination-based experiments. In addition, we offer Cre RLPs (RNA lentiviral particles), biologically active Cre mRNA packaged in nonintegrating, virus-like particles, which enable transient Cre expression for in vitro or in vivo applications.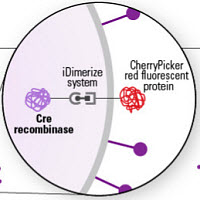 Cell-derived nanovesicles which deliver active Cre recombinase protein directly to target cells for genome modification.
---
Tools for delivering Cre recombinase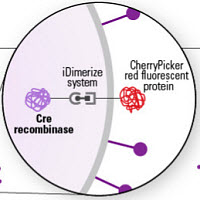 See how gesicle technology outperforms plasmid transfection for efficient delivery of Cre recombinase in most cell types.
Takara Bio USA, Inc.
United States/Canada: +1.800.662.2566 • Asia Pacific: +1.650.919.7300 • Europe: +33.(0)1.3904.6880 • Japan: +81.(0)77.565.6999
FOR RESEARCH USE ONLY. NOT FOR USE IN DIAGNOSTIC PROCEDURES. © 2023 Takara Bio Inc. All Rights Reserved. All trademarks are the property of Takara Bio Inc. or its affiliate(s) in the U.S. and/or other countries or their respective owners. Certain trademarks may not be registered in all jurisdictions. Additional product, intellectual property, and restricted use information is available at takarabio.com.