T7 RNA Polymerase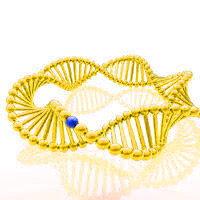 T7 RNA Polymerase is a DNA-dependent RNA polymerase that exhibits high specificity for the bacteriophage T7 promoter sequence 5'-TAATACGACTCACTATA-3'. The enzyme can incorporate labeled or unlabeled nucleoside triphosphates into an RNA transcript. Large quantities of RNA can be synthesized from a DNA sequence cloned downstream of the T7 promoter due to the high processivity and transcription frequency of T7 RNA Polymerase. The enzyme is supplied in a buffer of 20 mM potassium phosphate (pH 7.9), 100 mM NaCl, 1 mM DTT, 0.1 mM EDTA and 50% glycerol.
More Information
Applications
Buffer
Supplied with 10X Reaction Buffer [400 mM Tris-HCl (pH 8.0), 80 mM MgCl2, 20 mM spermidine, and 50 mM DTT].
Product citations
Chamberlin, M., McGrath, J. & Waskell, L. New RNA polymerase from Escherichia coli infected with bacteriophage T7. Nature 228, 227–31 (1970).
Chamberlin, M. & Ring, J. Characterization of T7-specific ribonucleic acid polymerase. 1. General properties of the enzymatic reaction and the template specificity of the enzyme. J. Biol. Chem. 248, 2235–44 (1973).
Davanloo, P., Rosenberg, A. H., Dunn, J. J. & Studier, F. W. Cloning and expression of the gene for bacteriophage T7 RNA polymerase. Proc. Natl. Acad. Sci. U. S. A. 81, 2035–9 (1984).
Schenborn, E. T. & Mierendorf, R. C. A novel transcription property of SP6 and T7 RNA polymerases: dependence on template structure. Nucleic Acids Res. 13, 6223–36 (1985).
Additional product information
Please see the product's Certificate of Analysis for information about storage conditions, product components, and technical specifications. Please see the Kit Components List to determine kit components. Certificates of Analysis and Kit Components Lists are located under the Documents tab.
Takara Bio USA, Inc.
United States/Canada: +1.800.662.2566 • Asia Pacific: +1.650.919.7300 • Europe: +33.(0)1.3904.6880 • Japan: +81.(0)77.565.6999
FOR RESEARCH USE ONLY. NOT FOR USE IN DIAGNOSTIC PROCEDURES. © 2021 Takara Bio Inc. All Rights Reserved. All trademarks are the property of Takara Bio Inc. or its affiliate(s) in the U.S. and/or other countries or their respective owners. Certain trademarks may not be registered in all jurisdictions. Additional product, intellectual property, and restricted use information is available at takarabio.com.