SMARTer RACE 5'/3' Kit—advances in SMARTer PCR cDNA synthesis
Better results with challenging targets, using an improved SMARTer RACE kit
Enhanced performance, especially for long fragments
Easier handling and improved reaction conditions
Complete kit includes polymerase and cloning reagents


Full-length cDNA synthesis gets an upgrade
It is well established that one gene codes for more than one protein. As such, it is important to have 5'- and 3'-sequence information in order to learn more about the different transcripts that result from a single gene. Full-length cDNA offers specific information about these end sequences, and thus provides better data about transcriptional variants. Researchers often rely on Rapid Amplification of cDNA Ends (RACE) to acquire the full-length sequence of RNA transcripts. If you are working with only a few genes, RACE is more economical than next-generation sequencing (NGS) for this purpose.

To enhance the RACE procedure, we created a kit that incorporated its own SMART (Switching Mechanism at the 5' end of RNA Template) technology. The resulting SMARTer RACE cDNA Amplification Kit has been widely used for both 5'- and 3'-RACE applications and cited in hundreds of publications. Now, we have developed a new kit-with the same unique SMARTer core (Figure 1), plus further refinements in reaction conditions and downstream cloning. This new SMARTer RACE 5'/3' Kit outperforms its predecessor in both ease of use and performance (Figures 2 and 3).
Benefits of SMARTer cDNA synthesis
The new RACE kit retains all the benefits of the previous kit, including the advanced first-strand cDNA synthesis technology, which makes the process fast and relatively simple. The new kit provides higher sensitivity and specificity, as well as lower background (Figure 3), by pairing the SMARTer II A Oligonucleotide with SMARTScribe Reverse Transcriptase. SMARTer first-strand cDNA can be used directly in 5'- and 3'-RACE PCR reactions, without the problematic adapter ligation step other RACE kits incorporate.
Building on the core SMART technology, the new kit's protocol has been modified to accommodate a larger RNA input volume, and include a larger reaction volume, both of which allow for easier handling.
A complete solution for RACE: synthesize, clone, and identify with a single kit
The SMARTer RACE 5'/3' Kit contains all the necessary components (save gene-specific primers) to streamline your process. With this single kit, you can begin first-strand cDNA synthesis and proceed through cloning RACE fragments—all in just eight hours, enabling recovery of successful clones for analysis on the second day (Figure 2, Table II).
In addition to the critical SMARTer reagents, the kit includes SeqAmp DNA Polymerase, which provides robust PCR performance, especially in the amplification of challenging targets that are long or GC-rich (Figure 3, Table I).
| | | | | | | |
| --- | --- | --- | --- | --- | --- | --- |
| Sample | Target | Transcript length (bp) | GC content (%) | RACE product size (bp) | Product (Y/N) | New sequence (bp) |
| 1 | MAP1A | 10,537 | 54.56 | 1,591 | Y | 13 |
| 2 | MAP1B | 11,996 | 42.35 | 1,795 | Y | 0 |
| 3 | SPTBN1 | 10,238 | 42.80 | 1,633 | Y | 32 |
| 4 | SLC1A2 | 12,021 | 42.20 | 2,014 | Y | 73 |
| 5 | DYNC1H1 | 14,361 | 47.06 | 1,999 | Y | 36 |
| 6 | PKD1 | 14,135 | 63.16 | 2,329 | Y | 21 |
| 7 | PLEC | 14,668 | 63.68 | 1.516;>2,000 | Y | 16 |
| 8 | NRXN1 | 10,626 | 35.78 | 2,110 | N | N/A |
| 9 | PCLO | 22,288 | 33.82 | 2,269 | Y | 59 |
| 10 | HOOK3 | 14,460 | 40.55 | 2,318 | Y | 0 |

Table I. Data table for 5'-RACE fragments amplified with the new kit. Amplicons (shown on the left half of the gel in Figure 3) were cloned using the components supplied in the SMARTer RACE 5'/3' Kit, verified with Sanger sequencing, and checked for additional, nonannotated bases (indicated in the far-right column of the data table).
Includes the acclaimed In-Fusion HD Cloning Kit
The new SMARTer RACE 5'/3' Kit includes a NucleoSpin Gel and PCR Clean-Up kit, an In-Fusion HD Cloning Kit, and Stellar Competent Cells. PCR fragments amplified by SeqAmp DNA Polymerase have blunt ends, making them well-suited to the In-Fusion protocol which enables easy cloning, even of large amplicons.
A linearized cloning vector compatible with In-Fusion technology is provided in the kit, and the included primers are designed to specifically match this vector. You must also design your own gene-specific primers according to our listed guidelines to ensure that only your desired 5'- or 3'-RACE fragment is cloned. When used together, the highly efficient natures of SMARTer cDNA synthesis and In-Fusion Cloning create an extremely fast, optimized system that takes you from RNA to successful clones, ready for analysis, in just two days (Figures 2 and 3, Tables I and II).
Table II: Comparison of SMARTer RACE cDNA kit components*
New SMARTer RACE 5'/3' Kit
Old SMARTer RACE cDNA Amplification Kit
Core technology components (SMARTer first-strand cDNA synthesis reagents, 5'- and 3'-RACE PCR universal primer mix, control RNA & primers; primers have been modified for use with the new kit.)
Core technology components (SMARTer first-strand cDNA synthesis reagents, 5'- and 3'-RACE PCR universal primer mix, control RNA & primers.)
SeqAmp DNA Polymerase.
No DNA polymerase included.
In-Fusion Cloning reagents (including the linearized pRACE vector, an In-Fusion HD Cloning Kit, and Stellar Competent Cells).
No cloning reagents included.
Gel extraction kit for PCR.
Gel extraction kit for PCR.

*Differences between kits appear in bold.
---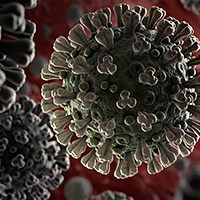 Learn how researchers identified a novel, highly contagious coronavirus and developed a one-step RT-qPCR screening protocol.
Takara Bio USA, Inc.
United States/Canada: +1.800.662.2566 • Asia Pacific: +1.650.919.7300 • Europe: +33.(0)1.3904.6880 • Japan: +81.(0)77.565.6999
FOR RESEARCH USE ONLY. NOT FOR USE IN DIAGNOSTIC PROCEDURES. © 2023 Takara Bio Inc. All Rights Reserved. All trademarks are the property of Takara Bio Inc. or its affiliate(s) in the U.S. and/or other countries or their respective owners. Certain trademarks may not be registered in all jurisdictions. Additional product, intellectual property, and restricted use information is available at takarabio.com.