Want to learn what's possible? Request a consultation.
Takara Bio—your partner for better clinical test and kit development
In today's competitive molecular diagnostic testing market, you need to be confident that your manufacturing partner can provide you with continued access to the latest technologies your customers have come to expect. Developing and performing diagnostic tests requires a supplier who can be trusted to consistently deliver reliable products and services that will help you improve efficiencies, reduce costs, streamline operations, and get your products to the market. With over 50 years of experience, plus manufacturing capabilities and distribution centers in six countries, we are well equipped to provide our market-leading products with superior inventory management and logistical support.
1
Inquiry about a custom request via website, email, or sales representative
2
Consultation with custom team to determine the best option for your requirements
3
Collaboration between custom team and internal organization to initiate the project
4
For custom formulation, small-scale manufacturing and testing of the custom product by our R&D team
5
Large-scale manufacturing and QC testing by our production team
6
Custom packaging and kitting as required
7
Safe and on-time delivery of the custom product
8
Ongoing customer and technical support
---
Leverage a market leader's expertise
High-quality products. Scalable manufacturing. Industry-leading customer support.
A partnership with Takara Bio gives you a strong competitive advantage. Our world-class scientific and manufacturing expertise have enabled us to successfully support some of the top testing labs in the US and globally for decades. As a primary manufacturer of enzymes and reagents, we control all aspects of product manufacturing, from incoming raw materials to release of finished goods. This has enabled us to actively support numerous testing labs in receiving COVID-19 test EUAs using our standard, custom, and OEM one-step RT-qPCR kits, some of which are marked CE-IVD.
Accelerated time to market, improved efficiency, optimum solutions
High-quality reagents with consistent performance and reliability
Product customization including high-concentration and glycerol-free solutions
State-of-the-art facilities for scalable fermentation
Flexible shipping options with on-time delivery and continuity of supply
Robust quality systems and materials management capabilities with strict control of confidential information
---
Rely on our global custom manufacturing and OEM capabilities
Manufacturing in six countries. Global distribution. Sustainable packaging solutions.
As your partner, we minimize your risk associated with inventory management by providing the logistical support to meet your delivery requirements. Takara Bio has manufacturing capabilities in six countries and six distribution centers globally. Our primary distribution center in Madison, WI, USA, supports our global locations and distributors. Our sustainable packaging solutions are designed to accommodate your brand requirements while optimizing ease-of-use, function, flexibility, and storage conditions during shipping and in the laboratory.
Product development and manufacturing capabilities to deliver customer-branded products
Custom product formulations, vialing/dispensing, labeling, and packaging
Modified packaging to accommodate automated workflows
Custom quality-control specifications to meet your assay QC and documentation needs
Lyophilized or lyophilization-ready (glycerol-free) enzyme and buffer formulations
Single-lot sourcing (for use in preclinical studies, etc.)
Bulk supply of critical reagents used at high frequency
---
Count on superior quality and support
Stringent quality standards. Comprehensive quality-assurance testing. Expert support.
We have established a comprehensive quality assurance system that enables us to meet our commitment to customer satisfaction. Our rigorous quality management system meets ISO 13485:2016 standards, and cGMP for select products, to ensure your product is being manufactured to a highly consistent and reproducible standard. All our custom manufactured products are provided with proof of performance and certificates of analysis to validate specifications. Additionally, we will work with you to determine if your custom product formulation requires further quality assurance testing.
We are committed to enable you to create the best possible assays that have the biggest impact in your marketplace. When you collaborate with our team, you are getting more than just high-quality products; you are also gaining a dedicated team of experts who are ready to provide support at every step of your product's life cycle. You can rely on our broad range of enzyme products, expertise, and services to provide superior solutions that meet your customer's needs.
---
Start the conversation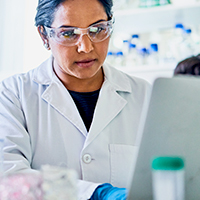 Contact our business development experts and get started on the right track with your molecular diagnostic project.
Takara Bio USA, Inc.
United States/Canada: +1.800.662.2566 • Asia Pacific: +1.650.919.7300 • Europe: +33.(0)1.3904.6880 • Japan: +81.(0)77.565.6999
FOR RESEARCH USE ONLY. NOT FOR USE IN DIAGNOSTIC PROCEDURES. © 2021 Takara Bio Inc. All Rights Reserved. All trademarks are the property of Takara Bio Inc. or its affiliate(s) in the U.S. and/or other countries or their respective owners. Certain trademarks may not be registered in all jurisdictions. Additional product, intellectual property, and restricted use information is available at takarabio.com.