Takara Bio USA, Inc. elevates the sensitivity of scRNA-seq in its continuing mission to support the efforts of single-cell researcher
Mountain View, CA—January 26, 2021—Takara Bio USA, Inc. (TBUSA), a wholly owned subsidiary of Takara Bio Inc., is proud to announce that researchers in the laboratory of Stephen Quake, Professor at Stanford University and a pioneer in single-cell genomics applications, have pushed the sensitivity of gene detection to new heights using the recently released SMART-Seq Single Cell Kit from TBUSA.
"We consistently find that the Takara Bio SMART-Seq Single Cell kit demonstrates greater sensitivity than our Smart-seq2 protocol. On mammalian cells from tissue culture we found the Takara Bio kit on average detected ~7500 genes, compared to ~5000 genes found using the Smart-seq2 protocol, while with toxoplasma parasites we detected ~2300 with Takara's kit compared to 866 with Smart-seq2," said Yuan Xue, a graduate researcher in the Quake Lab.
The SMART-Seq Single Cell Kit incorporates Takara Bio's proprietary SMART (Switching Mechanism at 5′ end of RNA Template) technology, which relies on the template-switching activity of reverse transcriptase to enrich for full-length cDNAs. The kit was specifically created for single-cell applications and improved performance for cells with very low RNA content.
"We are excited that we can contribute to the efforts of large-scale studies of human health, where understanding the biology of single cells is a key driver," says Andrew Farmer, CSO/Head of Research and Development at TBUSA. "While there are many single-cell technologies available today, we recognize the need for higher sensitivity is especially critical when working with cells that have lower amounts of RNA. We remain committed to producing valuable tools to support good science."
Back to Blog Front
---
About Takara Bio
Takara Bio USA, Inc. (TBUSA) is a wholly owned subsidiary of Takara Bio Inc. that manufactures and distributes kits, reagents, and instruments for life sciences research applications, including NGS, PCR, gene delivery, genome editing, stem cell research, nucleic acid and protein purification, and automated sample preparation.
Contact Information
Lorna Neilson, PhD
VP, Corporate Development
2560 Orchard Parkway
San Jose, CA 95131
lorna_neilson@takarabio.com
650.919.7372
---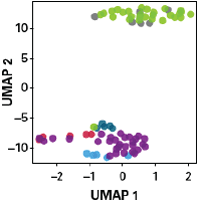 Takara Bio USA, Inc.
United States/Canada: +1.800.662.2566 • Asia Pacific: +1.650.919.7300 • Europe: +33.(0)1.3904.6880 • Japan: +81.(0)77.565.6999
FOR RESEARCH USE ONLY. NOT FOR USE IN DIAGNOSTIC PROCEDURES. © 2023 Takara Bio Inc. All Rights Reserved. All trademarks are the property of Takara Bio Inc. or its affiliate(s) in the U.S. and/or other countries or their respective owners. Certain trademarks may not be registered in all jurisdictions. Additional product, intellectual property, and restricted use information is available at takarabio.com.