Isolate DNA from soil & environmental samples with NucleoSpin Soil
Prevent DNA degradation—NucleoSpin Soil removes humic acid and other PCR inhibitors from soil samples
Isolate pure DNA from soil—Use purified DNA directly as a PCR template; no dilution or clean-up necessary
Are you extracting DNA from microbes in soil, sludge, or sediment? We know that this can be challenging, because soil samples vary widely in their pH and the amount and composition of organic and inorganic matter, including PCR inhibitors, polysaccharides, and humic substances. The NucleoSpin Soil DNA isolation kit removes these contaminants, so you can easily detect and quantify microorganisms including Gram-positive and -negative bacteria, archaea, yeast, fungi, and algae.
What's your biggest challenge?
Do you have trouble with sample lysis?
Thorough mechanical lysis is an essential first step to break up the cells and spores in soil. Ceramic beads (included with the kit) are the most effective way to perform this initial lysis step.
Is humic acid preventing you from isolating quality DNA from soil?
Humic substances are produced by bacteria, fungi, and protozoa. Due to their high molecular weight and polyanionic nature, most purification methods do not distinguish between humic molecules and DNA. For the same reason, humic substances (including humic acid) act as potent PCR inhibitors. NucleoSpin Soil contains Inhibitor Removal Columns that eliminate these humic substances. Other kits can copurify humic substances, leaving a brown color and interfering with PCR.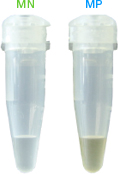 Figure 1. Total DNA was purified from forest soil with NucleoSpin Soil (MN) and a kit from competitor MP. Competitor MP's kit copurifies large amounts of humic substances, as shown by its colored eluate.
Are you frustrated with low purity and yield?
The highly variable composition of different soils makes it impossible to maximize DNA yield and purity for all samples with a single lysis buffer. Therefore, NucleoSpin Soil includes two lysis buffers plus an enhancer. You can mix and match these components to obtain the highest yield (2–10 μg DNA, depending on the sample) and purity (A260/280=1.7–1.9) for any type of soil, no matter what humic substances or PCR inhibitors it contains.
Is your PCR failing due to PCR inhibitors?
The only way to be sure that your PCR reactions will be successful is to eliminate PCR inhibitors when you purify DNA from soil. NucleoSpin Soil includes very efficient wash buffers and Inhibitor Removal Columns that eliminate PCR inhibitors. The purified DNA is ready to use for PCR; no dilution or clean-up is necessary. And since the purified DNA does not need to be diluted, your PCR reactions will have maximum sensitivity.



Figure 2. NucleoSpin Soil completely removes PCR inhibitors and provides good PCR results from undiluted eluates. DNA was purified with NucleoSpin Soil (using various combinations of the included Lysis Buffers and Enhancer) and with kits from Competitors MP and MO. 2 µl of undiluted eluate from each purification was used as a PCR template with fungi-specific internal transcribed spacer (ITS) primers. NucleoSpin Soil isolated pure DNA from every type of soil, and no dilution was needed for PCR. Competitor MP (Lanes 5) failed to yield DNA pure enough to be used undiluted. PCR from river sediment samples purified with the kit from Competitor MO (Lanes 6) was strongly inhibited. Lane 1. NucleoSpin Soil, using Soil Lysis Buffer SL1. Lane 2. NucleoSpin Soil, using Soil Lysis Buffer SL1 plus Enhancer SX. Lane 3. NucleoSpin Soil, using Soil Lysis Buffer SL2. Lane 4. NucleoSpin Soil, using Soil Lysis Buffer SL2 plus Enhancer SX. Lane 5: Kit from Competitor MP. Lane 6. Kit from Competitor MO.
Simple soil DNA purification protocol
Purify DNA from up to 500 mg of soil in 90 minutes. Suspend your sample in lysis buffer and mechanically disrupt it using ceramic beads, then precipitate out proteins and PCR inhibitors and clear the supernatant by passing it through an Inhibitor Removal Column. Then bind the DNA to the column, wash out residual humic substances and PCR inhibitors, and elute pure DNA.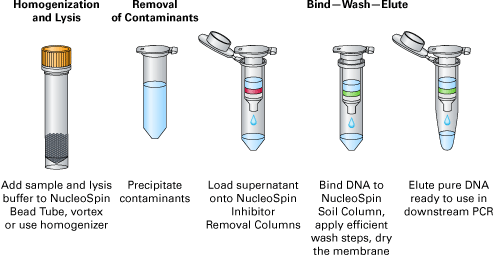 Figure 3. Soil DNA purification protocol using NucleoSpin Soil.


NucleoSpin Soil specifications
Technology
Silica membrane
Format
Mini spin columns
Starting Material
<500 mg (wet weight) soil, sludge, or sediment
Binding Capacity
50 μg
Yield
2–10 μg DNA from soil microbes
Elution Volume
3–100 μl
Time
90 min/10 preps
Takara Bio USA, Inc.
United States/Canada: +1.800.662.2566 • Asia Pacific: +1.650.919.7300 • Europe: +33.(0)1.3904.6880 • Japan: +81.(0)77.565.6999
FOR RESEARCH USE ONLY. NOT FOR USE IN DIAGNOSTIC PROCEDURES. © 2018 Takara Bio Inc. All Rights Reserved. All trademarks are the property of Takara Bio Inc. or its affiliate(s) in the U.S. and/or other countries or their respective owners. Certain trademarks may not be registered in all jurisdictions. Additional product, intellectual property, and restricted use information is available at takarabio.com.