Streamlined single-cell mRNA-seq with the SMART-Seq HT Kit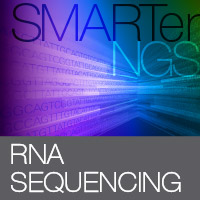 The SMART-Seq HT Kit (SS-HT) is an automation-friendly kit that uses oligo(dT) priming to generate high-quality, full-length cDNA directly from 1–100 cells or 10 pg–1 ng of total RNA.
The SMART-Seq HT Kit (SS-HT) is an automation-friendly kit that uses oligo(dT) priming to generate high-quality, full-length cDNA directly from 1–100 cells or 10 pg–1 ng of total RNA.
The SS-HT cDNA synthesis kit has a streamlined protocol optimized to work downstream of FACS and reduces hands-on time compared to SMART-Seq v4 kits, owing to the introduction of a convenient combined reverse transcription and PCR amplification step. The SMART (Switching Mechanism at 5' End of RNA Template) technology powering the cDNA synthesis provides full-length transcript coverage, making it a powerful tool for studying gene expression in single cells, including splice junctions and alternative splicing. Oligo(dT) priming is used to specifically amplify mRNA from either high-quality total RNA (RIN >8) or intact cells. LNA technology improves the efficiency of template switching, which increases the number of genes identified compared to other methods.
If you prefer a random priming approach that will allow you to work with degraded samples and also includes library preparation and indexing reagents, we recommend our SMART-Seq Stranded Kit.
Overview
Easily automate the streamlined workflow—process more samples in less time and maximize the space on your automation deck
Unparalleled sensitivity—start with as little as one cell or 10 pg of total RNA (input range: 1–100 cells or 10 pg–1 ng of total RNA)
High-quality RNA-seq data—capture full-length transcript coverage, a low percentage of rRNA reads, and a broad representation of GC-rich transcripts
Increased sequencing power—include unique dual indexes to allow for the pooling of multiple samples and confident sequencing on the NovaSeq™ system
Interested in more data and FAQs about this product? Visit the NGS Learning Center.
SMART-Seq HT has a simplified workflow with less hands-on time
SMART-Seq HT matches the performance of SMART-Seq v4
Sequencing metrics comparing SMART-Seq v4 and SMART-Seq HT kits
RNA source
10 pg Mouse Brain Total RNA
cDNA synthesis
SMART-Seq v4
SMART-Seq HT
Replicate
A
B
C
A
B
C
Yield (ng)
7.3
8.5
9.4
9.5
9.9
9.2
Number of transcripts
14,168
13,934
14,147
14,510
14,650
14,553
11,455
11,267
11,349
11,582
11,670
11,454
Average Pearson/Spearman
0.97/0.67
0.97/0.68
0.96/0.66
Proportion of reads mapped (%)
rRNA
0.7
0.6
0.5
1.1
1.1
1.1
Mitochondria
2.8
4.2
4.1
3.7
3.8
4.2
Genome
92.3
90.8
86.6
89.1
89.0
87.8
Exons
74.8
72.5
69.0
67.3
67.1
65.3
Introns
13.3
14.1
13.3
16.9
16.9
17.4
Intergenic regions
4.2
4.2
4.4
4.9
5.0
5.2
Table 1. High overlap of transcripts identified with the SMART-Seq v4 and SMART-Seq HT kits. Libraries were prepared from 10 pg of Mouse Brain Total RNA. The output cDNA was converted into RNA-seq libraries using the Illumina Nextera XT DNA Library Preparation Kit and sequenced on an Illumina NextSeq® instrument (2 x 75 bp). Sequences were analyzed as described in the methods after normalizing all the samples to 13 million paired-end reads.
More Information
Application
cDNA synthesis from single cells or total RNA for transcriptome sequencing
Additional product information
Please see the product's Certificate of Analysis for information about storage conditions, product components, and technical specifications. Please see the Product Components List to determine kit components. Certificates of Analysis and Product Components Lists are located under the Documents tab.
Takara Bio USA, Inc.
United States/Canada: +1.800.662.2566 • Asia Pacific: +1.650.919.7300 • Europe: +33.(0)1.3904.6880 • Japan: +81.(0)77.565.6999
FOR RESEARCH USE ONLY. NOT FOR USE IN DIAGNOSTIC PROCEDURES. © 2020 Takara Bio Inc. All Rights Reserved. All trademarks are the property of Takara Bio Inc. or its affiliate(s) in the U.S. and/or other countries or their respective owners. Certain trademarks may not be registered in all jurisdictions. Additional product, intellectual property, and restricted use information is available at takarabio.com.