Tet-On and Tet-Off expression systems: first generation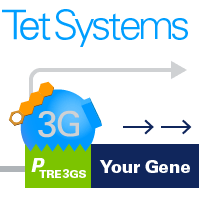 Tet-On and Tet-Off brands are the highest-performing and most-cited inducible mammalian expression systems. Since the first generation of Tet-On and Tet-Off systems, a series of improvements to the systems have resulted in three distinct generations of the technology. This page lists the remaining first-generation Tet-On and Tet-Off vectors. To learn about the highest-performing Tet-On inducible expression systems, visit our Tet-On 3G and Tet-One pages.
Overview
If you are upgrading your system or purchasing a Tet system for the first time, we recommend choosing a Tet-On 3G or Tet-One system
First generation: Tet-On and Tet-Off systems
These are the original systems described by the laboratories of Hermann Bujard, Manfred Gossen, and Wolfgang Hillen, and launched by Clontech (now Takara Bio USA) in 1996. Their performance has been surpassed by two subsequent generations.
Second generation: Tet-On Advanced and Tet-Off Advanced systems
Compared to the original Tet-On and Tet-Off systems, our Tet-Advanced systems have been optimized for improved expression in mammalian cells by utilizing human codon preferences and removing cryptic splice sites from the mRNA sequence of the transactivator. These enhancements lead to higher and more stable expression levels, while the three minimal VP16 transcription activation domains minimize off-target effects and reduce toxicity. The PTight promoter contains a modified TRE that both reduces basal expression and promotes tight binding to the Tet-Advanced transactivator proteins during induction to permit specific and high-level transcription of your downstream gene.
Third generation: Tet-On 3G system
The Tet-On 3G system is the most advanced inducible expression system for mammalian cells. The transactivator is similar to the Tet-On Advanced system, but additional mutations lead to further sensitivity to doxycycline. Moreover, sequence optimization within the PTRE3G promoter further reduces basal expression up to 15-fold compared to second-generation systems. To read more about the Tet-On 3G system, please visit the Tet-On 3G and Tet-One pages.
More Information
Please see the product's Certificate of Analysis for information about storage conditions, product components, and technical specifications. Please see the Kit Components List to determine kit components. Certificates of Analysis and Kit Components Lists are located under the Documents tab.
Takara Bio USA, Inc.
United States/Canada: +1.800.662.2566 • Asia Pacific: +1.650.919.7300 • Europe: +33.(0)1.3904.6880 • Japan: +81.(0)77.565.6999
FOR RESEARCH USE ONLY. NOT FOR USE IN DIAGNOSTIC PROCEDURES. © 2020 Takara Bio Inc. All Rights Reserved. All trademarks are the property of Takara Bio Inc. or its affiliate(s) in the U.S. and/or other countries or their respective owners. Certain trademarks may not be registered in all jurisdictions. Additional product, intellectual property, and restricted use information is available at takarabio.com.