High-throughput viral detection via qPCR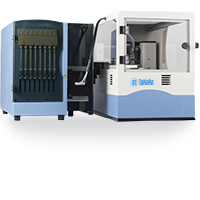 Controlling the COVID-19 pandemic depends upon the ability to detect SARS-CoV-2 from a large number of samples with precision, reproducibility, and speed. Minimizing false positives and negatives, accurately capturing transcripts down to single-digit copy numbers, reducing hands-on time, and maximizing the number of samples processed per day are critical factors to consider when choosing an automated, high-throughput qPCR system for SARS-CoV-2 detection.
The SmartChip Real-Time PCR System is a complete solution that includes chips and reagents, allowing the processing of thousands of samples per day. One chip's 5,184 wells hold nanoliter-scale reaction volumes, eliminating a preamplification step for reduced variability and decreasing costs.
In response to COVID-19, we rapidly developed a SmartChip protocol that detects the novel coronavirus. We have generated proof-of-concept data from assays run on our high-throughput platform that indicate sensitive and reproducible detection of human RNase P (below) and viral nucleocapsid genes. Sign up to watch a webinar describing the full data set.
If you are on a mobile device, click on the hamburger icon () on the top left of your screen, then scroll down to access the form.
---
SmartChip system featured on GenomeWeb
Diagnostic companies and clinical labs want to streamline sample detection while increasing sensitivity and accuracy. As a complete system used widely for pathogen surveillance, the SmartChip system is uniquely positioned to immediately meet the demand for rapid, high-throughput COVID-19 detection, even allowing the flexibility to vary the number of assays and samples per chip and to customize panels for combined pathogen tests.
Read more about the advantages of the SmartChip system on GenomeWeb news »
---
With the SmartChip system, you can:
Process more samples—each run contains up to 768 samples across up to 4 replicates, enabling analysis of thousands of samples per day
Reduce hands-on time—our automated platform requires <30 minutes of hands-on time and can complete a run in <4 hours
Lower operating costs—our chips utilize as low as 100-nl reactions, enabling up to 200X decreased costs for master mixes and other reagents
More Information
Please see the product's Certificate of Analysis for information about storage conditions, product components, and technical specifications. Please see the Kit Components List to determine kit components. Certificates of Analysis and Kit Components Lists are located under the Documents tab.
---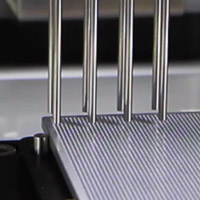 High-throughput real-time PCR
Where throughput meets flexibility
Real-time PCR (qPCR) is a powerful technique for genotyping and gene expression analysis. Currently, qPCR experiments are becoming increasingly complex—involving an expansive and growing list of targets from a larger number of samples, all with more technical replicates. The SmartChip Real-Time PCR System is a complete high-throughput solution that enables an unrivaled amount of flexible assay and sample formats, allowing researchers to seamlessly switch between dispensing assay reagents and samples into blank chips, or dispensing samples into custom, preprinted chips without the need for revalidation.
Learn more
Product details
---
Takara Bio USA, Inc.
United States/Canada: +1.800.662.2566 • Asia Pacific: +1.650.919.7300 • Europe: +33.(0)1.3904.6880 • Japan: +81.(0)77.565.6999
FOR RESEARCH USE ONLY. NOT FOR USE IN DIAGNOSTIC PROCEDURES. © 2021 Takara Bio Inc. All Rights Reserved. All trademarks are the property of Takara Bio Inc. or its affiliate(s) in the U.S. and/or other countries or their respective owners. Certain trademarks may not be registered in all jurisdictions. Additional product, intellectual property, and restricted use information is available at takarabio.com.