Detect SARS-CoV-2 in crude saliva samples—without RNA extraction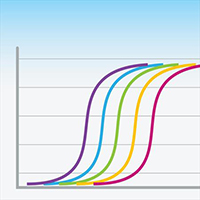 Direct One-Step RT-qPCR Mix for SARS-CoV-2 enables accurate one-step RT-qPCR on unpurified saliva samples to detect the presence and amount of virus. No RNA extraction step is needed; just mix the sample and pretreatment reagent, heat treat, and then combine with the RT-qPCR master mix. The whole protocol, from pretreatment through detection, takes less than one hour, enabling fast time to results. This protocol provides guidelines for multiplexed SARS-CoV-2 detection in saliva samples, but no primers are included (see Overview section below for more information).
Recent research from the Yale University School of Medicine has found a direct correlation between high levels of SARS-CoV-2 in saliva to an increased likelihood of hospitalization with severe disease and death (Silva et al. 2021). This correlation between viral load and severity of infection was not present in nasopharyngeal samples. These results suggest that monitoring viral load in saliva provides a better understanding of disease progression and can be used to stratify and effectively treat patients with SARS-CoV-2.
Overview
Our one-step PrimeScript III RT-qPCR mix contains the most sensitive reverse transcriptase on the market, outperforming Qiagen/TaqPath. PrimeScript III mix is widely trusted for use with a variety of sample types to detect low viral loads at the beginning of infection when only one test will be performed. Seeing the great need for rapid, accurate SARS-CoV-2 detection in saliva samples, we adapted and optimized our same gold-standard PrimeScript III technology for extractionless RT-qPCR detection from crude saliva samples, resulting in the Direct One-Step RT-qPCR Mix for SARS-CoV-2.
One-step PrimeScript technology has been used in two FDA emergency use authorizations (EUAs) for COVID-19 diagnostic tests. View more information on these EUAs, recent publications using this technology for SARS-CoV-2 detection, and data on compatibility with primer/probe sets from the US CDC, WHO, China CDC, and Japan NIID.
The Direct One-Step RT-qPCR Mix for SARS-CoV-2 protocol was optimized using the primers and probes recommended by the US CDC for N1, N2, and RNase P targets in a multiplex reaction. These custom primers and probes will need to be ordered separately.
Application data
The performance of Direct One-Step PrimeScript RT-qPCR Mix for SARS-CoV-2 for its intended application was confirmed across a range of target RNA copy numbers (Figure 1).
Synthetic RNA of the N1 and N2 regions of SARS-CoV-2 was spiked into unpurified saliva samples. The samples were processed according to the Direct One-Step PrimeScript RT-qPCR Mix for SARS-CoV-2 protocol, with or without the included Sample Prep Solution (SPS). Positive detection of SARS-CoV-2 N1 and N2 targets and human RNase P (RP) target was achieved from the samples treated with SPS. On the other hand, no Ct values for N1 and N2 targets were obtained (ND) from the samples that were not treated with SPS, although the Ct values of the RP target were still obtained due to the remaining human genomic DNA. The higher reaction volume that allowed higher sample input showed more consistent results, especially for detecting low copy numbers of the viral genome.
20-µl reaction (total volume)
Sample prep solution
No
Yes
Target
N1
N2
RP
N1
N2
RP
Target RNA (copies)
0
ND
ND
27.6
ND
ND
24.6
10
ND
ND
27.5
38.1
36.4
24.8
100
ND
ND
27.8
34.1
32.7
24.5
1,000
ND
ND
27.9
31.0
29.7
24.7
10,000
ND
ND
27.9
27.3
26.6
24.3
50-µl reaction (total volume)
Sample prep solution
No
Yes
Target
N1
N2
RP
N1
N2
RP
Target RNA (copies)
0
ND
ND
27.7
ND
ND
24.9
10
ND
ND
27.7
36.7
36.3
25.0
100
ND
ND
27.5
34.5
32.9
24.7
1,000
ND
ND
27.6
30.6
29.7
24.8
10,000
ND
ND
27.7
27.1
26.5
24.9

Figure 1. SARS-CoV-2 RNA is reliably detected in crude saliva samples using the Direct One-Step RT-qPCR Mix for SARS-CoV-2.
More Information
Applications
Detection of SARS-CoV-2 in unpurified saliva samples (protocol provided)
References
Silva, et al. Saliva viral load is a dynamic unifying correlate of COVID-19 severity and mortality. medRxiv 10, doi: 10.1101/2021.01.04.21249236 (2021).
Additional product information
Please see the product's Certificate of Analysis for information about storage conditions, product components, and technical specifications. Please see the Kit Components List to determine kit components. Certificates of Analysis and Kit Components Lists are located under the Documents tab.
Takara Bio USA, Inc.
United States/Canada: +1.800.662.2566 • Asia Pacific: +1.650.919.7300 • Europe: +33.(0)1.3904.6880 • Japan: +81.(0)77.565.6999
FOR RESEARCH USE ONLY. NOT FOR USE IN DIAGNOSTIC PROCEDURES. © 2022 Takara Bio Inc. All Rights Reserved. All trademarks are the property of Takara Bio Inc. or its affiliate(s) in the U.S. and/or other countries or their respective owners. Certain trademarks may not be registered in all jurisdictions. Additional product, intellectual property, and restricted use information is available at takarabio.com.