DpnI restriction enzyme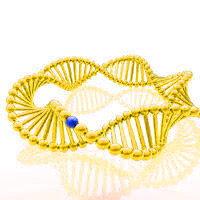 DnpI restriction site:
GmA| TC
CT | mAG
Supplied buffer: T
Reaction temperature: 37°C
More Information
Source: E. coli carrying a plasmid encoding the dpnI gene
Requires methylation of adenine in GATC recognition sequence. Hemiadenomethylation results in greatly reduced activity. Cleaves DNA prepared from E. coli dam+ strain. Does not cleave PCR-amplified DNA.
Substrate for unit definition: pBR322 DNA prepared from dam+ strain
Inactivation: fully inactivated by incubation at 70°C for 15 min. Alternatively, add 1/10 volume of 10X Loading Buffer (supplied) and load directly on an agarose gel for analysis
Store 10X Loading Buffer at room temperature. SDS may precipitate during storage. If precipitates are present, dissolve by incubating briefly at 37°C before use.
DpnI is a Type IIM restriction enzyme that specifically cleaves DNA containing methylated adenine (mA) in the recognition sequence GmA | TC, also referred to as the dam sequence since it is recognized by dam methylase. DpnI does not cleave unmethylated DNA, and will cleave hemimethylated DNA (with only one adenine methylated) 60-fold more slowly than fully adenomethylated recognition sequences. While DpnI shares the same recognition sequence as DpnII, Sau3AI, and MboI, the isoschizomers have different methylation sensitivities. Sau3AI is insensitive to adenomethylation but will not cleave if one or more cytosines in the recognition sequence are methylated. DpnII and MboI do not cleave adenomethylated sequences.
Each lot undergoes stringent quality testing including overdigestion, genome DNA analysis, ligation-recutting and pKF3 cloning
Additional product information
Please see the product's Certificate of Analysis for information about storage conditions, product components, and technical specifications. Please see the Kit Components List to determine kit components. Certificates of Analysis and Kit Components Lists are located under the Documents tab.
Takara Bio USA, Inc.
United States/Canada: +1.800.662.2566 • Asia Pacific: +1.650.919.7300 • Europe: +33.(0)1.3904.6880 • Japan: +81.(0)77.565.6999
FOR RESEARCH USE ONLY. NOT FOR USE IN DIAGNOSTIC PROCEDURES. © 2022 Takara Bio Inc. All Rights Reserved. All trademarks are the property of Takara Bio Inc. or its affiliate(s) in the U.S. and/or other countries or their respective owners. Certain trademarks may not be registered in all jurisdictions. Additional product, intellectual property, and restricted use information is available at takarabio.com.