ThruPLEX Plasma-seq citations
Our collaborators and customers are continually making scientific breakthroughs. Here are the latest published results obtained using ThruPLEX Plasma-seq kits for sequencing of cell-free DNA (cfDNA) contained in blood plasma and other liquid biopsies.
---
Bennett, C. W. et al. Cell-free DNA and next-generation sequencing in the service of personalized medicine for lung cancer. Oncotarget 7, 71013–71035 (2016).
This review article presents an analysis of the role of cell-free DNA as a liquid biopsy technique and NGS as an analytical tool in studying EGFR and MET, two frequently mutated genes in lung cancer. Read now »
Gao, M. et al. Next Generation-Targeted Amplicon Sequencing (NG-TAS): An optimised protocol and computational pipeline for cost-effective profiling of circulating tumour DNA. bioRxiv 366534 (2018).
These authors describe a fast, flexible, and cost-effective method to profile multiple genes simultaneously in low-input circulating tumor DNA (ctDNA). NG-TAS robustly detects mutations in cfDNA and is adequate to monitor metastatic cancer. In clinical plasma samples, the amount of ctDNA is frequently a limiting factor, but for this study, the ThruPLEX Plasma-seq Kit successfully generated whole genome cfDNA libraries from as little as 3 ng of cfDNA input. Read now »
Horvath, D., Jerome, J. P. & Popkie, A. High Throughput Preparation of High Quality Sequence-Ready Libraries from Cell-Free DNA (cfDNA) using ThruPLEX Plasma-seq Kit Automated on the Biomek FXp Laboratory Workstation.
This application note describes an automated sample preparation workflow using the ThruPLEX Plasma-seq Kit on the Biomek FXP Automated Workstation. The protocol has been demonstrated to prepare up to 96 Illumina-ready libraries per run from cfDNA inputs between 0.1 ng and 10 ng in <3 hours. Sequencing analysis revealed a highly accurate and reproducible automation protocol capable of generating high-quality sequencing metrics similar to those of manually prepared libraries, having low GC bias and absence of any well-to-well cross-contamination. Read now »
Kitzman, J. O. et al. Noninvasive whole-genome sequencing of a human fetus. Sci. Transl. Med. 4, 137ra76 (2012).
This study combined genome sequencing of two parents, genome-wide maternal haplotyping, and deep sequencing of maternal plasma DNA to noninvasively determine the genome sequence of a human fetus at 18.5 weeks of gestation. Maternal plasma libraries were prepared using the ThruPLEX Plasma-seq Kit, and sequencing data allowed a highly accurate determination of the inherited complement of the fetal genome. Read now »
Mayrhofer, M. et al. Cell-free DNA profiling of metastatic prostate cancer reveals microsatellite instability, structural rearrangements and clonal hematopoiesis. Genome Med. 10, 85–98 (2018).
This study shows the feasability of using of cell-free DNA for cancer diagnosis, prognosis, and marker identification. Using cell-free DNA from plasma samples is much less invasive than obtaining a tissue biopsy and is showing great promise as a more viable technique in understanding the progression of the disease. The authors performed low-depth whole-genome sequencing, as well as target enrichment in order to achieve greater depth on specific regions of interest. They used inputs ranging from 0.1–50 ng of cell-free DNA. Read now »

Mouliere, F. et al. Integrated clonal analysis reveals circulating tumor DNA in urine and plasma of glioma patients. bioRxiv 758441 (2019). doi:10.1101/758441
This study used the ThruPLEX Tag-Seq Kit to sequence cell-free DNA—a challenging sample type due to its low abundance in bodily fluids—from glioma patients. Researchers were able to detect tumor-derived DNA in plasma (10/12, 83%), and urine (8/11, 72%) samples from the majority of glioma patients (7/8, 87.5%). These findings suggest that there may be no additional benefit to traditional CSF analyses when such sensitive detection methods are used. Read now »
Mouliere, F. et al. Detection of cell‐free DNA fragmentation and copy number alterations in cerebrospinal fluid from glioma patients. EMBO 12, e9323 (2018).
The assay described in this article helps to solve a significant problem: sequencing cost. The sequencing depth requirements are much lower for copy number variation and DNA fragmentation as compared to mutations. In other words, the authors could reliably get candidate samples from low-cost screening, and then follow up with deeper and more costly sequencing only on the patients with a high likelihood of disease. This approach may be applied to other diseases and forms of cancer. Read now »
Mouliere, F. et al. Selecting short DNA fragments in plasma improves detection of circulating tumour DNA. bioRxiv 134437 (2017).
The article investigated the feasibility of ctDNA enrichment by size selection in plasma samples collected before and during chemotherapy treatment in 13 patients with recurrent high-grade serous ovarian cancer. The authors used the ThruPLEX Plasma-seq Kit to prepare indexed sequencing libraries for targeted and whole genome sequencing. They found that size selecting DNA fragments between 90 and 150 bp before analysis yielded up to 11-fold enrichment of the mutated DNA fraction, allowing identification of adverse copy number alterations—including MYC amplification—that otherwise were not observed. Read now »
Murtaza, M. et al. Non-invasive analysis of acquired resistance to cancer therapy by sequencing of plasma DNA. Nature 497, 108–112 (2013).
In this study, cancer exomes in serial plasma samples were sequenced to track genomic evolution of metastatic cancers in response to therapy in six patients with advanced breast, ovarian, and lung cancers. The ThruPLEX Plasma-seq Kit was used to prepare indexed sequencing libraries from these plasma samples. Synchronous biopsies performed in two of these cases confirmed genome-wide representation of the tumor genome in plasma. Increased representation of mutant alleles was associated with the emergence of therapy resistance, establishing proof of principle that exome-wide analysis of circulating tumor DNA could complement current invasive biopsy approaches to identify mutations associated with acquired drug resistance in advanced cancers. Read now »
Patel, K. M. et al. Association Of Plasma And Urinary Mutant DNA With Clinical Outcomes In Muscle Invasive Bladder Cancer. Sci. Rep. 7, 5554 (2017).
The authors collected 248 liquid biopsy samples including plasma, cell pellet, and supernatant from the spun urine of 17 muscle-invasive bladder cancer patients undergoing neoadjuvant chemotherapy (NAC). Libraries were prepared using the ThruPLEX Plasma-seq Kit with 10-ng inputs, and these were used to assess single nucleotide variants and copy number alterations in body fluid mutant DNA (mutDNA) using tagged amplicon sequencing and shallow whole genome sequencing. Longitudinal mutDNA analysis demonstrated tumor evolution under the selective pressure of NAC, and the persistence of mutDNA detection during NAC predicted disease recurrence, emphasizing the potential of mutDNA as an early biomarker for chemotherapy response. Read now »
Smith, C. G. et al. Comprehensive characterisation of cell-free tumour DNA in plasma and urine of patients with renal tumours. bioRxiv 758003 (2019).
In this article, researchers used ThruPLEX DNA-Seq and Tag-seq kits to determine the heterogeneity and potential clinical applications of ctDNA in plasma and urine of 90 renal tumor patient samples. The authors concluded that, while renal cell cancer produces low levels of ctDNA, these DNA-seq approaches may have clinical utility. Read now »
Srebniak, M. I. et al. The influence of SNP-based chromosomal microarray and NIPT on the diagnostic yield in 10,000 fetuses with and without fetal ultrasound anomalies. Hum. Mutat. 38, 880–888 (2017).
This study evaluated the impact of SNP array and noninvasive prenatal testing (NIPT) on the diagnostic yield and the number of invasive tests at the Department of Clinical Genetics, Erasmus University Medical Center Rotterdam. The frequency of pathogenic fetal unbalanced chromosome aberrations was studied in 10,005 cases referred for prenatal testing from 2009–2015. The introduction of the SNP-based microarray, with sequence library preparation from 1 ng of cfDNA per sample using the ThruPLEX Plasma-seq Kit, led to an additional yield of submicroscopic pathogenic chromosome aberrations: 3.6% in fetuses with ultrasound anomalies and 1.9% in fetuses without ultrasound anomalies. Read now »
Takai, E. & Yachida, S. Circulating tumor DNA as a liquid biopsy target for detection of pancreatic cancer. World J. Gastroenterol. 22, 8480–8488 (2016).
This review article provides an overview of the current status of blood-based tests for diagnosis of pancreatic cancer and the potential utility of ctDNA for precision medicine. Challenges remain to be addressed in developing practical ctDNA-based liquid biopsy approaches for early diagnosis of pancreatic cancer, but new technologies such as the ThruPLEX Plasma-seq Kit are available and worth evaluating to establish standardized methods of ctDNA analysis. Read now »
Ulz, P., Heitzer, E., Geigl, J. B. & Speicher, M. R. Patient monitoring through liquid biopsies using circulating tumor DNA. Int. J. Cancer 141, 887–896 (2017).
This review article discusses the relationship between the allele frequency of somatic tumor‐specific mutations and the tumor fraction within plasma DNA, asks how well current tumor evolution models correlate with findings in longitudinal liquid biopsy studies, and addresses the importance of detecting mutations occurring at very low allele frequencies in plasma DNA. Read now »
Xia, Y. et al. Copy number variations in urine cell free DNA as biomarkers in advanced prostate cancer. Oncotarget 7, 35818–35831 (2016).
The authors performed whole genome sequencing of urine cfDNAs (using libraries generated with a ThruPLEX DNA-seq Kit) to identify tumor-associated copy number variations in urine before and after initiating androgen deprivation therapy in advanced prostate cancer. A log2 ratio-based copy number analysis detected several common genomic abnormalities present in prostate cancer and significant copy number changes in 34 genomic loci between pre- and post-treatment. This study demonstrated the potential clinical utility of urine cfDNAs in predicting treatment response and monitoring disease progression. Read now »


---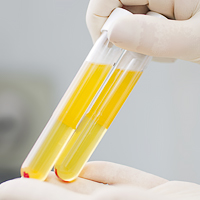 cfDNA isolation from up to 10 ml of plasma
NucleoSnap cfDNA & NucleoMag cfDNA
Consistent recovery of fragmented cfDNA ≥50 bp from plasma obtained in EDTA or Cell-Free DNA BCT tubes
Efficient removal of PCR inhibitors regardless of input volume
Convenient manual or automated processing using snap-off columns or magnetic beads
Suitable for downstream applications such as qPCR and NGS
Single prep
High throughput
Takara Bio USA, Inc.
United States/Canada: +1.800.662.2566 • Asia Pacific: +1.650.919.7300 • Europe: +33.(0)1.3904.6880 • Japan: +81.(0)77.565.6999
FOR RESEARCH USE ONLY. NOT FOR USE IN DIAGNOSTIC PROCEDURES. © 2020 Takara Bio Inc. All Rights Reserved. All trademarks are the property of Takara Bio Inc. or its affiliate(s) in the U.S. and/or other countries or their respective owners. Certain trademarks may not be registered in all jurisdictions. Additional product, intellectual property, and restricted use information is available at takarabio.com.