Guest webinar: Detection and quantification of antibiotic resistance genes and SARS-CoV-2 in wastewater
The US CDC has declared antibiotic resistance (AR) a global threat. Hospitals have been the traditional breeding ground for drug-resistant strains; however, AR also spreads through the environment via antibiotic usage in livestock, poultry, and fish farms, which liberates antibiotics into water and soil. Furthermore, modern travel habits are increasing the propagation of resistant pathogens.
Resistomap is a Finland-based company that offers laboratory and analysis services for the detection and quantification of antibiotic resistance genes (ARGs) in environmental samples. Resistomap monitors the propagation of environmental AR using high-throughput methods to identify genes that confer AR to pathogens. As the COVID-19 pandemic developed, Resistomap used their expertise and tools to quickly expand their activities into monitoring the presence of SARS-CoV-2 in wastewater, a source that can reveal important information about transmission.
In this webinar, Dr. Windi Muziasari, cofounder and CEO of Resistomap, will share about her company's activities and how they are collaborating with Takara Bio.
Webinar outline:
Threats posed by the increasing prevalence of antibiotic resistance
Challenges researchers face in the detection of ARGs
Features of the SmartChip Real-Time PCR System suited for ARG screening
---
About the presenter
Windi Muziasari, PhD
Dr. Windi Muziasari is cofounder and CEO of Resistomap, based in Helsinki, Finland. She received a PhD in Biotechnology and Microbiology from the University of Helsinki and a master's degree in Environmental Sciences from Gwangju Institute of Science and Technology. Dr. Muziasari has over 10 years of experience working on the environmental dimension of antibiotic resistance and bacterial genetics. For inquiries, please email windi@resistomap.com.
About Resistomap
Resistomap is a service provider that offers laboratory and analysis services to detect and quantify antibiotic resistance genes from environmental samples such as wastewater, river water, lake water, seawater, soil, manure, and stool using a high-throughput gene profiling method: the SmartChip Real-Time PCR System. Resistomap's mission is to prevent the spread of antibiotic resistance by identifying, characterizing, and monitoring AR hotspots.
---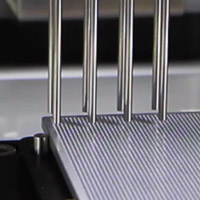 Save resources and increase sample throughput for COVID-19 detection
The SmartChip Real-Time PCR System is a complete, high-throughput solution with unrivaled flexibility in assay and sample formats. This system supports:
100-nl reaction volumes that decrease costs up to 200X vs. traditional plates
5,184 wells for processing up to 384 samples per chip
Automated dispensing that reduces hands-on time
14 different dispense patterns that enable rapid switching, adding, or removing assays and replicates
Takara Bio USA, Inc.
United States/Canada: +1.800.662.2566 • Asia Pacific: +1.650.919.7300 • Europe: +33.(0)1.3904.6880 • Japan: +81.(0)77.565.6999
FOR RESEARCH USE ONLY. NOT FOR USE IN DIAGNOSTIC PROCEDURES. © 2022 Takara Bio Inc. All Rights Reserved. All trademarks are the property of Takara Bio Inc. or its affiliate(s) in the U.S. and/or other countries or their respective owners. Certain trademarks may not be registered in all jurisdictions. Additional product, intellectual property, and restricted use information is available at takarabio.com.