CSHL 2018
Pushing the limits of genome engineering technology
The CSHL 2018 Genome Engineering conference took place from August 22–25 and brought together key opinion leaders, technology users, and researchers to discuss recent advances and applications of CRISPR-Cas9 gene editing technology.
We presented the following posters at the conference. For additional information, please check out our featured products and watch our recorded webinar about the Guide-it CRISPR Genome-Wide sgRNA Library System and NGS analysis kit.
Poster presentations at CSHL 2018
Screening successful homologous recombination events using a fluorescence-based method
One of the most powerful applications of genome editing is the introduction of precise changes in specific sites by homologous recombination (HR). These HR editing events range from the insertion of long sequences encoding fusion tags or expression cassettes to single base changes that mimic single-nucleotide polymorphisms (SNPs) related to human diseases, to the introduction of stop codons to generate precise gene knockouts.
During the workflow of any knockin (KI) experiment, it is critical to detect successful and accurate HR events at two different stages. Stage one involves optimization of the experimental conditions to achieve the highest percentage of recombination before moving forward with single-cell clone isolation of the edited population. The second stage involves identification of the cell line carrying the edit of interest after single-cell isolation and expansion in 96-well plates. To address this need, we developed a simple fluorescence-based method that allows the detection of successful HR events independent of their length (from single-nucleotide substitutions to longer insertions) or surrounding targeted genomic loci in edited populations as well as in clones from 96-well plates. The assay consists of PCR amplification of the target site, followed by an enzymatic assay, and a fluorescence-based read out using a standard plate reader. A positive fluorescent signal from the assay is highly correlated with the correct introduction of the desired edit. In case of KI of longer sequences, the assay allows for the simultaneous detection of seamless insertions at both 5' and 3' ends of the recombinant sequence due to dual-color detection capability.
As a proof of concept, we applied this method in different KI experiments in hiPSCs with the creation of isogenic cell lines carrying SNPs in the FAH gene related to tyrosinemia and the introduction of myc tag in the gene UGT1A9 (related to drug metabolism). In all editing experiments, we performed the assay at both stages: first to detect which sgRNAs generated a higher percentage of KI, and second to screen for the edited clonal cell lines after isolation and expansion of single cells in 96-well plates. In case of tagging of the UGT1A9 gene, during the screening process, we could discern clonal cell lines with partial or complete insertions due to the detection of both 5' and 3' ends. The engineered cell lines carrying the desired edit could be further differentiated to hepatocytes, thus generating a valuable tool for disease and metabolism studies.
Streamlined production, application, and analysis of pooled genome-wide sgRNA lentiviral libraries
Genome-wide loss-of-function genetic screens are a powerful way to identify novel protein functions and biological processes within a cell. A common approach in in-vitro loss-of-function screens is to knock out genes in a population of cells, apply selective pressure, and then identify mutations that are either enriched or depleted in the selected population relative to a control. The easy programmability and high knockout efficiency of the CRISPR/Cas9 system has helped researchers maximize the potential of this in-vitro screening method to identify genes responsible for a given phenotype of interest. Current methods using pooled sgRNAs in loss-of-function screens rely on lentiviral vector-based delivery followed by next-generation sequencing (NGS) to analyze the resulting distribution of sgRNA sequences in screened cell populations. Inherent challenges include maintaining sgRNA representation in lentiviral plasmids, achieving optimal titers upon scale-up of lentivirus production, and preparing high-quality NGS libraries that accurately reflect the distribution of sgRNA sequences.
Here we present a streamlined approach for producing Cas9+/sgRNA+ cell populations in sufficient quantities for a genome-wide screen, and for generating NGS libraries used to assess changes in sgRNA representation, using the Guide-It CRISPR Genome-Wide sgRNA Library System. Our methods enable even novice users to perform genome-wide phenotypic screens without concerns for sgRNA representation, low virus titer, or NGS library preparation.
---
Featured products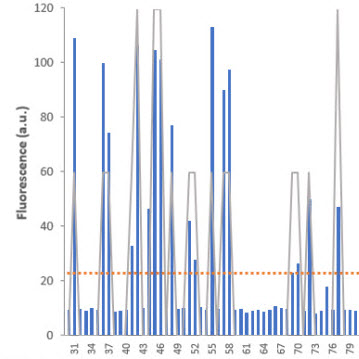 Get answers to frequently asked questions and view a video explaining the enzymatic assay.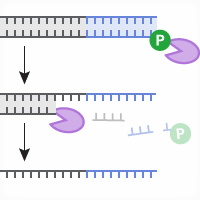 Generate long ssDNA for CRISPR/Cas knockins with a simple in vitro protocol.
Takara Bio USA, Inc.
United States/Canada: +1.800.662.2566 • Asia Pacific: +1.650.919.7300 • Europe: +33.(0)1.3904.6880 • Japan: +81.(0)77.565.6999
FOR RESEARCH USE ONLY. NOT FOR USE IN DIAGNOSTIC PROCEDURES. © 2019 Takara Bio Inc. All Rights Reserved. All trademarks are the property of Takara Bio Inc. or its affiliate(s) in the U.S. and/or other countries or their respective owners. Certain trademarks may not be registered in all jurisdictions. Additional product, intellectual property, and restricted use information is available at takarabio.com.